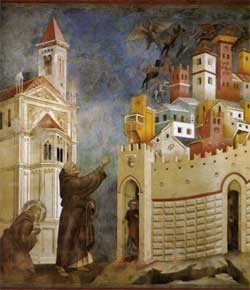 The Vatican has made the news again with their university level course on Satanism, black magic and exorcism. Taught by exorcists and psychiatrists, the course ran last February and apparently was popular enough that they'll be running it again this year.
The course runs four months and is open to clergy and seminarians as well as doctors, psychiatrists, lawyers and youth workers at Rome's Pontifical Academy "Regina Apostolorum," run by the conservative order, the Legionaires of Christ.
This year's opening class of the "Exorcism and Prayer of Liberation" on Thursday featured lectures about liturgical and spiritual aspects of Satanism and problems related to exorcism.

"The aim of this course is to express a clear vision of the phenomenon," said Italian Bishop Andrea Gemma, a leading exorcist who delivered the opening lecture.

"Exorcism … is an important prayer of the Church to help those who are believed to be, or who really are, suffering from a diabolic infestation," he told his audience.
In 1999, the Vatican updated issued updated guidelines for exorcisms – it's first since 1614 – and now cautions exorcists to take psychiatric problems into account.
Priests now begin exorcisms with prayers while sprinkling holy water. They then make the sign of the cross while reciting an incantation that denounces the Devil.
According to several priests quoted, exorcisms are more common than you might think. Father Vincenzo Taraborelli said that the number of exorcisms had doubled since he became a priest 15 years ago, and Father Gabriele Amorth claims to have been involved with over 40,000 exorcisms.
The Rev. Gabriele Nanni, an exorcist and lecturer of the course, told The Associated Press that there were four widely accepted signs of possession by the devil, "speaking in unknown languages, showing a disproportionate physical strength beyond one's natural capacity, the repulsion to sacred things, such as crucifix and prayers, and knowledge of events that have happened far away, in terms of times and places."
To be clear, Satanism in this case refers to those that actually hold rites and rituals to worship the devil. (see religioustolerance.org for various definitions of satanism)
Exorcisms don't have much to do with this (or most other) definition of Satanism. Rather, exorcisms involve a priest who performs a ritual to release an evil entity from a possessed person.
Sources: CBSNews