A reader asks:
You may be aware of a recent lawsuit filed in a European court by an Italian atheist against the Catholic Church accusing them of perpetuating a myth in claiming that Jesus actually lived. The accuser claims that Jesus is actually based on a character named John of Galama, who is in fact a fictional character taken from a book called "For The Temple" written by GA Henty in 1888. So we have this spectacle of an atheist claiming that Jesus was a myth based solely on his belief that Jesus was really a person who never even existed except in a 19th century children's book.

Although I believe that Jesus indeed did live, a large and apparently growing number of people, most atheists and New-Age followers, are challenging this notion. Do you believe that it is vital to prove the historicity of Jesus, and how do we do this if the Gospels themselves are not accepted as proof in themselves?
I would imagine that any lawsuit questioning whether Jesus was a historical person would immediately be tossed out of court. That said, I googled the case, and according to Wikipedia, Italian atheist, Luigi Cascioli, accused a local priest, Father Enrico Righi of libeling him for publishing a critique of his book along with the fraud charge.
There's a huge difference between suing a man for libel and suing a man for fraud – ie for teaching that Jesus was a myth. I can't imagine any court taking a case involving the latter. On what grounds would you prove or disprove it? What kind of damages could you possibly seek?
It sounds more like a publicity stunt to me – kind of like how Michael Baigent and Richard Leigh sued Dan Brown for copyright infringement for allegedly stealing their crackpot ideas in Holy Blood, Holy Grail. The case was decided in Brown's favor, but Baigent got a huge boost in publicity for his most recent book.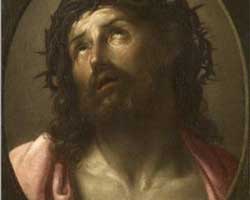 As for your question about historical accuracy, it's true that we don't have any first hand accounts of Jesus. I previously blogged about
what we know about the historical Jesus
. That said, it would most certainly be easy to prove that there were traditions about Jesus well before the 19th century. We have all kinds of manuscripts and letters dating back to the first few centuries. There's no way anyone could make the claim that the concept of Jesus was started recently.
Personally, I think that Jesus probably did exist as a person. In my opinion, there are just too many people writing about him in the first few centuries for him to have been a completely made up character. – or at least for me to completely write him off as a myth, but I do question whether what modern day Christians believe about him is anything like what he himself believed and taught. There are just too many conflicting beliefs about him – they can't all be right.
I think we can reason and suppose but scholars have been debating who the historical Jesus was for the last century and haven't reached any uniform conclusions. Unless archaeologists find something that clearly belonged to him, there's always going to be room for doubt. That's why the James ossuary caused such a stir in the biblical community.