Description
Length:
10 weeks
Course Includes:
Access course materials 24/7
Access to course discussion forum
Mobile friendly content
Certificate of completion
30-day 100% money back refund policy
Access for 365 days from payment
Effort:
2-4 hrs/week
Structure:
all lessons delivered online
~1 hour of video content broken into 5-10 minute segments per week
each segment has recommended readings
remember what you learn with short 2-4 question multiple choice quizes
each week has optional forum discussion questions
no hard deadlines: complete at your own pace
---
Who Should Take This Course?
This is an introductory course. There are no prerequisites. If you are interested in the mythology of the ancient Near East and how it may have influenced the authors of the Hebrew Bible (Christian Old Testament), then this course is for you. In this course, you will read primary texts from ancient Israel and its neighbors. We will compare literature, traditions, and archaeological evidence and see how ancient Near Eastern materials can shed light on the Hebrew Bible.
The aim of this course is to introduce students with little or no background in ancient Near Eastern culture or early Jewish thought to the major religious themes of the Hebrew Bible in its historical and cultural setting. We will take a comparative literary approach to analyzing primary sources (the Hebrew Bible, texts from the ancient Near East). In addition, we will look at modern academic research theories on how the ancient Israelites evolved from the polytheistic cultures of their ancient Near Eastern neighbors to the monotheistic worship of their God, Yahweh.
This course will provide background and context for two upcoming courses I hope to release in 2018: one on the angelology and demonology of the Book of Enoch and the Dead Sea Scrolls and a second on the demonology and Satanology in the Christian New Testament.
---
Meet The Instructor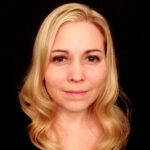 Krista started DeliriumsRealm as an undergraduate at the University of Pennsylvania almost 20 years ago. She holds a BA in Religious Studies and Biological Basis of Behavior from UPenn and an MS/MBA in Information Technology Management from Temple University. She also holds certificates in "Information Systems and Technology" (Temple) and "Professional Communications" (UPenn). She is a lifelong learner, having completed 40+ MOOC courses, and is a beta tester for Coursera in her spare time.
---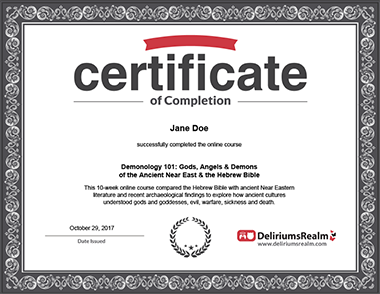 Certificate of Completion When You Finish The Course:
Motivate Yourself
Certificate is an additional incentive to complete the course.
Instantly Downloadable
Certificate will be available in PDF format for download as soon as you complete all course modules.
Still have questions? See our FAQ.
---
Curriculum For This Course:
Course content is posted weekly.
Week 1: Hebrew Bible in Context
The course overview will provide a brief history of biblical and ancient Near East studies over the last century, including how 19th & 20th century archaeological findings have helped us reconstruct civilizations that have been dead for 2500+ years. And we will explore different methods for comparing the Hebrew Bible to ancient Near Eastern texts.
Week 2: The Combat Myth
The Combat (or Conflict) Myth is an ancient Near Eastern story retold in various forms. We will look at the Akkadian myth of Anzu, the Babylonian & Assyrian versions of the Enuma Elish, and the Ugaritic Baal Cycle to see how the myth of the storm god overthrowing the sea dragon evolved. We will compare and contrast these stories to Yahweh's battle with Leviathan/Behemoth/sea dragon in various Psalms, Job, Isaiah and Ezekiel.
Week 3: Gods & the Divine Council
The divine (or heavenly) council is a common motif within the ancient Near Eastern literature and the Hebrew Bible. It depicts a high god or Yahweh meeting together with a group of members (gods, goddesses, celestial beings) to make an important decision. We will explore some of the primary gods and goddesses in ancient Near Eastern documents like El, Baal, Dagon, Asherah, Astarte, and Anat. We will also consider who might be on Yahweh's council in various biblical passages and what Asherah's relationship with Yahweh might have been.
Week 4: Angels & Satan
This week we will look at the role of divine messengers in ancient Near Eastern texts and how the angels of the Hebrew Bible have similar roles. We look at the Cherubim and Seraphim of the Bible in light of ancient Near East sources. And we will explore how Yahweh carries out divine punishment, including the role of Satan as Adversary and Accuser.
Week 5: Sons of God, Nephilim & Giants
Genesis 6:1-4 is one of the most mysterious passages in Genesis. Who were the Sons of God who took human wives and produced offspring? Who were the Nephilim and the Gibborim? This week we will explore how different biblical books describe some of these entities as well as look at some parallels and giant mythology in the Ugaritic and Mesopotamian literature. (Note: Gen 6:1-4 forms the basis of much of the Book of Enoch, Book of Jubilees, and some Qumran texts, among others. However, that material is outside the scope of this class and will not be covered.)
Week 6: Death & the Afterlife
Descents to the Underworld were common myths throughout the ancient Near Eastern literature. We will look at the Mesopotamian myth of Enlil and Ninlil, the Akkadian Descent of Ishtar, the Sumerian story of Gilgamesh, Enkidu, and the Netherworld, and the battle between Baal and Mot in the Ugaritic Baal cycle. We will also look at the Hebrew Bible's concept of Sheol.
Week 7: Demons, Disembodied Souls & Other Spirits
Perhaps surprisingly, there aren't many entities in the Hebrew Bible that might be considered "demons". Certainly, Azazel and Lilith became prominent in later traditions, but their origins in the Hebrew Bible are meager at best. Other possibly demonic entities are Resheph, Qeteb, and Deber. This week, we will look at how the ancient Mesopotamians viewed demons, including their capability to cause illness, fever and disease. We will compare those beliefs with the entities in the Bible. And we will also explore whether the ancient Israelites and those of the ancient Near East thought souls could become disembodied (Nefresh) & what might happen to them.
Week 8: Magic, Amulets & Incantations
Magic and ritual were common in the ancient world, where life was filled with uncertainty: would there be a good harvest? Would enemies attack? Would they suffer from disease? This week, we look at what the ancient people did if they thought a spirit was causing their illness, or if they wanted to create an offering/sacrifice to the gods, hopefully in exchange for good fortune. We will look at some of the amulets, altars, and iconography found in Mesopotamian and Israelite archaeology and consider how the ancient people may have used magic in their lives.
Week 9: Prophecy & Divination
Who were the prophets? How were they chosen? How did they receive their messages? This week, we will explore prophecy by looking at some of the ancient Near Eastern prophetic texts from Mari and Ninevah, as well as Ezekiel's temple vision and the role angels play in Zechariah's visions in the Hebrew Bible.
Week 10: The Combat Myth & The Rise of Apocalypticism
While the Hebrew Bible notably lacks a cosmic battle between God and Satan, the text sets the stage for these events beginning with the heavenly revelation of Daniel. This week, we will look at what influence Persian Zoroastrianism may had in developing the apocalyptic genre. And as we started with The Combat Myth, we will return to it as we examine the eschatology of Isaiah 24-27 and Daniel 7.