---
Post contains sponsored links.
---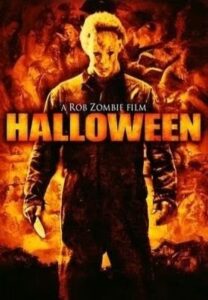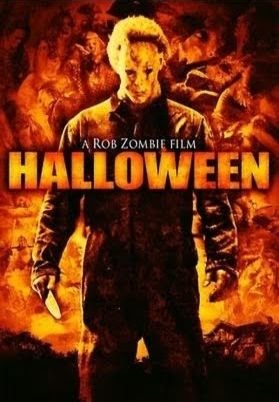 Reviewed by: Hellion
Rating:


Director: Rob Zombie
Greetings fellow hellspawns and do-gooders! Hellion here, with a review of Rob Zombie's revision of the classic Halloween.
After being institutionalized for half his life for killing his family, Michael Meyers escapes and goes on a bloody rampage of terror to his hometown of Haddonfield.
You've heard the old adage, "if it ain't broke, don't fix it." Well, that's how I felt after watching Rob Zombie's Halloween.
The Traumantic Childhood of Michael Meyers
In the new Halloween, we get a glimpse of Michael Meyers as a child before he turns into the "boogeyman." The Meyers home is a festering cesspool of hatred and contempt. While the disturbed little Michael was hiding out in his room, gutting his pet hamster, his busy ill-tempered "working girl" mother exchanges foulmouthed unloving barbs with her equally foul-mouthed and angry invalid of a husband. Michael's stepfather is basically a slobbering drunk confined to a wheelchair due to an accident and unable to support his family, causing much strife and tension in the household. But it's his verbal assaults on his wife and little Michael and the disgusting oogling of the older teenage daughter where any pity for the man turns into outrage. The stepfather is not a very good man. One might argue, he deserved what he got.
Michael's mom isn't a bad person per se, but she's not very educated and too stressed out to even bother taking a frying pan to her husband's head. Unfortunately, she chooses to basically ignore the situation, paying more attention to baby Laurie instead, not noticing how psychologically damaging this life is to her son. Throw in the typical normal older sibling harassment and excessive school bullying and Michael's personality finally splits open like a California fault line.
Michael Meyers, Child Killer
Michael's first human victim is the school bully. While mom meets with the school principal and Dr. Loomis, Michael's future psychiatrist, to discuss Michael's descent into violence, Michael covers his face with a clown mask and takes a hockey stick to the boy who stole his lunch money. Michael then returns home to butcher his stepfather, sister, his sister's boyfriend but spares baby Laurie, the only family member to receive any affection from Michael. When mom finally comes home from work, she finds the police removing the bodies and then breaks down.
Act II, we're off to the institution where Dr. Loomis desperately tries to find the "soul" of the child murderer. Although we repeatedly hear Dr. Loomis saying the child is evil, the viewers are not really feeling it. Michael is just a really sick child, who has been exposed to years of hatred, violence, with little or no love coming from his family. This is the recipe of all serial killers.
Michael has no remorse. In fact, he seems to have blocked out the incident because he doesn't even acknowledge his family is dead and even repeatedly asks to go home. Regular visits by his mom only leave Michael frustrated because he doesn't understand why he can't go home. Eventually, after a few years of suffering this frustration, Michael kills a nurse and his hopeless mother commits suicide unable to cope with what's happened to her family. A few years later, Dr. Loomis abandons the now mute boy after realizing he also failed in his attempts to help the boy. This all leads to speculation that Michael may simply be evil after all.
Michael Meyers Becomes The BoogeyMan
Fast forward 17 years and the clown mask-making child is all grown up into the full-fledged homicidal maniac the world has come to know. After an idiotic abusive warden gives Michael the opportunity to escape, Michael's killing spree begins. Not long after does he head off to Haddonfield. There he stops by the family home to pick up some bad memories, a butcher knife, and that infamous Captain Kirk mask.
Baby Laurie is now a healthy, bright, bubbly teenage girl living comfortably with her loving adoptive family the Strodes. From there, the storyline is not much different than the original movie. Michael stalks Laurie and her babysitting friends, killing them one by one until being rescued by Dr. Loomis. Viewers never get a good chance to learn about the characters because the time that should have been spent getting to know them is spent getting to know Michael. That makes it hard to care about them when they die. The movie does manage to imitate one classic scene when Laurie Strode asked Dr. Loomis that all-important question, "Was that the boogeyman?" Unfortunately, it was not.
The biggest problem with the new Halloween is, despite stating several times that Michael Meyers is soulless, I don't believe he is soulless. The film went to great lengths to humanize Michael by showing his traumatizing childhood, bringing his experiences to light so we can understand where this pain and anger comes from. We feel sympathy for Michael. Michael Meyers is no longer a monster. Michael Meyers is a man. A very sick man and the only hell he comes from is the dark caverns of his own polluted mind. Thus, the "boogeyman" element of the story is simply not there. Part of the reason why the original Halloween was so successful was audiences didn't know that much about Michael Meyers or his background. He was a boogeyman, a scary unstoppable creature who happened out of nowhere, killing everyone that got in his way, with no rhyme and no reason.
How Rob Zombie's Halloween Compares to The Original
For as much as I love Rob Zombie, who is an extraordinarily talented musician and filmmaker, changing the dynamics of Halloween to show just how Michael ended up being labeled a "boogeyman" only killed the mystique of the story.
The cast is unremarkable. Sheri Moon Zombie plays yet another skinny poor white trash exotic dancer, except this time, we're expected to believe that three kids, ages ranging from 1 to 16 years, popped outta that body. The usually solid Malcolm McDowell had crappy dialogue to work with so he only gave as much as he got. Relatively new child star Daeg Faerch gets a chance at a big role here playing the ten-year-old Michael Meyers. The problem with playing an expressionless child is, well, he played an expressionless child. Kinda hard to tell if the kid had talent or not, so we'll just assume he did. Taylor Mane played the grown-up version of Michael Meyers. I did notice there's a more sulking and graceful manner to this Michael Meyers as opposed to the stoic and rigid 1978 character, keeping in tune with that more humanized boogeyman. Rising star Scout Taylor Compton plays Laurie Strode. She lacks the charisma and the lung capacity of Jaime Lee Curtis but she only needs to keep her nose clean (literally) and I think she'll have a bright future in Hollywood. Veteran TV and film character actor Brad Dourif continues to lend his face and talents to B horror films by playing Sheriff Brackett. Like McDowell, Mr. Dourif is poorly used and his character never gets fleshed out enough for us to care about him.
And, then, it's a who's who of well-placed cameos from Ken Foree, Danny Trejo, Sid Haig, Sybil Danning, Udo Kier, Dee Wallace, Leslie Easterbrook, Bill Moseley, William Forsythe, Clint Howard, and even Monkees drummer Micky Dolenz.
There was one thing that Zombie kept in his version of Halloween, which could have kept me from watching the film altogether had it been left out and that was John Carpenter's infamous chilling title track, now synonymous with the 'homicidal maniac on the loose'. The track is updated of course but it's the same sound. All in all, though, I was disappointed to see no extra effort by such an iconic rock musician. Not only did Zombie not provide us with an original song, but he also picked the most cliche classic 70s rock music for the soundtrack.
Halloween has a running time of 120 minutes and earned its R rating with lots of blood, violence, nudity, and foul language. However, if you have never seen Halloween, please, do yourself a favor and go rent the original 1978 version directed by John Carpenter starring Jamie Lee Curtis first! You'll come to understand why they call Michael Meyers the Boogeyman and how he ended up becoming the legendary horror icon he is today. Sadly, you won't feel the same way watching the Zombie version. I give it a very generous two pitchforks.