---
Post contains sponsored links.
---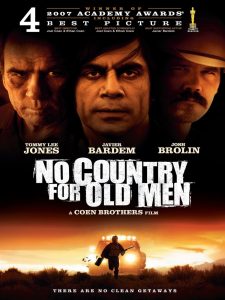 Rating:


Director: Coen Brothers
Based on the novel by Cormac McCarthy, No Country for Old Men is the story of how the inescapable nature of violence has become a staple of modern crime.
Set in 1980 in West Texas, the story starts and ends with Sheriff Ed Tom Bell (Tommy Lee Jones) a third-generation sheriff who longs for the days when crimes were simpler, sheriffs didn't wear guns and men's motivations made sense to him. He's been put in charge of a drug deal case that went horribly wrong, ending with a shootout, missing heroin, and a cold-blooded killer out to retrieve his $2 million in cash.
Caught up in the crime is a modest Texan named Llewellyn Moss (Josh Brolin) who was out hunting antelope when he stumbled upon a half dozen dead men in the middle of the desert and walked away with the bag of cash. Llewellyn's smart enough to realize someone will come looking for the loot so he sends his naive country wife, Carla Jean (Kelly MacDonald) to her mother's in Odessa while he goes into hiding. Moss and Carla Jean have great chemistry that encompasses a full range of emotions from playful teasing to discontent with their poor trailer life.
Yet Llewellyn soon learns that you can't hide from an assassin like Anton Chigurh (Javier Bardem), who calmly kills his victims with a canister of high-pressure air that ranchers use to kill livestock. Though mild, soft-spoken, and sporting a weird haircut, Chigurh is a merciless killer who believes in chance encounters and often decides the fate of his victims by a coin toss. There's a great scene in the movie where he confronts a gas station clerk who asks a few too many questions and it soon becomes apparent that their conversational banter and a subsequent coin toss will determine whether the clerk lives or dies.
No one is immune from Chigurh's whims – he just as methodically kills police officers, desk clerks, and cab drivers as he does his targets. Anyone that might stand in the way of his mission has a fair chance of being killed. It's not personal nor does it seem Chigurh takes sadistic pleasure in killing. That's just the way things must end.
In that regard, Chigurh is a fascinating character study. The Coen Brothers don't paint him as the ultimate evil that must be brought to justice but a force of nature that wreaks havoc before the dust settles or, perhaps, the angel of death who looms on the horizon waiting for his appointed time to strike.
Sheriff Bell makes saving Llewellyn from Chigurh his top priority though he doesn't have a clue how to stop a psychopath who kills so randomly and without emotion. Throughout the movie, he always is one step behind, questions his own ability to do his job effectively, and considers retiring. Joining the outstanding cast is Woody Harrelson who briefly plays a slightly neurotic bounty hunter hired to stop Chigurh.
No Country for Old Men is a classic Coen Brothers black comedy. They've injected brutal violence into a normally peaceful community that can't comprehend why others would want to destroy their peace for what they perceive as no good reason and the ending lingers, asking more questions than it answers.