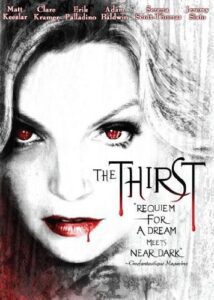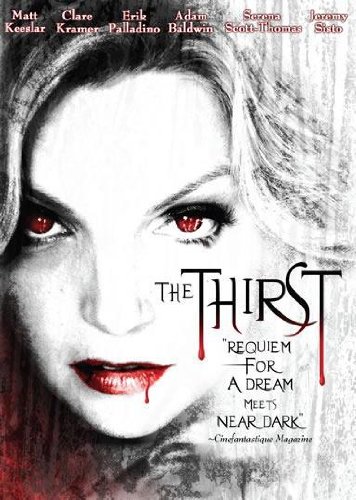 Reviewed by: Hellion
Rating:


Director: Jeremy Kasten
Greetings hellspawn and do-gooders. Hellion here reviewing The Thirst.
The Thirst is about a group of vampires who "save" a troubled drug addicted young stripper named Lisa dying from cancer. When her boyfriend Maxx begins snooping around some shady sex/dance clubs, he learns Lisa is still alive. After a brief introduction to a motley crue of aging vampires, Lisa agrees to turn him into another member of the "family." Gratuitous bloodshed ensues, until guilt and a sense of morality from the former rehabbers kicks in. From there, it's a deadly showdown between the two lovers trying to break free from their new found addiction.
Despite some usually reliable B actors and a good soundtrack, nothing can save this movie from becoming anything more than a paycheck for in-between-work for actors and shady producers who just started their own company as a tax write-off. Bad story, plot trouble, crappy acting, and a trashy look make this vampire film unforgettable, at best. The hook was "Requiem for a Dream meets Near Dark" but this movie serves neither as a heart-wrenching look at drug addicts or a good campy film about vampires! There are few scenes in regard to Maxx and Lisa being recovering drug addicts and even a few scenes that shed some light on Lisa's fight against cancer, but there is nothing remotely powerful or sympathetic in these performances. If it wasn't written in the script, you'd never these two characters were even struggling. Parallels are drawn between the addiction to drugs and the insatiable lust for blood. But it's not really done in an intelligent way.
In this tale, only females can turn the victims into vampires, instead of sires, they're mothers. After trying to save Maxx from the family after a bloody club visit, Lisa reluctantly turns him into one of them. Maxx discovers that he loves being a vampire, the rush of feeding is incredible, but Lisa does not. In fact, Lisa feels the same way about being vampire as she did when she was using. When Maxx fails to turn a new girlfriend and kills her (remember only females can turn victims into vampires), only then does he understand how Lisa feels. Unfortunately, the sickness has set in and the family is not ready for their newest children to bail out on them yet.
Trying to rip off the look of Near Dark, the vampire family is supposedly led by Darius, a flamboyant punk rocker type who enjoys gorging himself on victims. Other members include Darius' good looking girlfriend Mariel, another 17th Century European vampire, the Duke, an eloquent Brit with a lust for blood, women and torture the twins, two hyperactive squealing Asian beauties chosen "not because of their conversational skills" and Lenny, my favorite vamp of group, a wild and crazy outlaw from the old west. When they're not tearing the throats out of strip club patrons, the family has taken refuge in a normal two-story home of an aging couple, also running a bible camp in the middle of a remote forest. Darius uses the homeowner's nail gun to nail the husband and wife into the chairs at the dinner table, keeping them alive for amusement. That same nail gun will be the key to Darius' undoing at the end. The attack scenes are violent, bloody, gory and over the top. Large quantities of the victims' blood spray the walls and each other. The combination of nudity, sex and gore should keep 17 year old boys entertained during those scenes but the lousy script and bad acting will allow them to multitask.
Director Jeremy Kasten continues his streak of bad B horror films. But, hey, how else is a guy supposed to learn? I don't think he's gifted, but time will tell if he's tenacious and lucky enough to grow into a mature movie director that studios are willing to take a chance on. At the moment, directors like Kasten are a dime a dozen in Hollywood.
Lead actors Matt Kessler and Clare Kramer show promise of having a long acting career, just as long as they stay away from bad scripts. I can't really see either actor heading to the top of the A list but a steady stint on a healthy television show could pay off their mortgages and secure their retirement.
Unfortunately, the most agonizing part of watching this movie was also the most entertaining part of the movie, those reliable faces of veteran TV and movie actors that I love to watch. Jeremy Sisto from Clueless and Six Feet Under fame, does all right playing the psychopathic leader of the clan but his eastern European accent definitely needs some work. Sisto looked like he had fun with the part but I can't understand why he would choose to do this movie in the first place. I really didn't think someone like him needed to.
British newcomer Neil Jackson, gives a nice turn as the bloodthirsty Duke. Almost seems a bit of consolation prize for Spike TV fans, who never got the chance to watch him shine as Blade's Marcus Van Sciver. Just when the show got interesting, it got the ax. However, I see a sparkle in Mr. Jackson. I think he just needs the right script, and of course, to be in the right place at the right time.
Lastly, there's Adam Baldwin, who continues to be one of my favorite character actors. He's always fun to watch, no matter how bad the project is. Here, he goes above and beyond making that character entertaining. In fact, one could probably take his character Lenny and create a better cheesy, funny, campy horror movie spinoff! Hmmm…
Former Bond girl Serena Scott Thomas, Erik Palladino, Tom Lenk and dozens of other familiar faces around out the cast in this low budget gorefest. The movie seems to take itself too serious. It's all cheesy gore and no cheesy humor, making it very dull to watch.
With a running time of 88 minutes, I give The Thirst two pitchforks. If you're fan of Adam Baldwin or Neil Jackson and are overly curious, check it out. There are worse movies out there. Otherwise, you're not missing anything. Save your pesos for better movie.