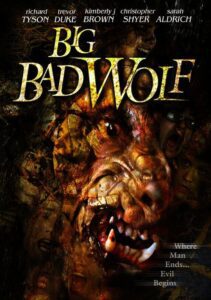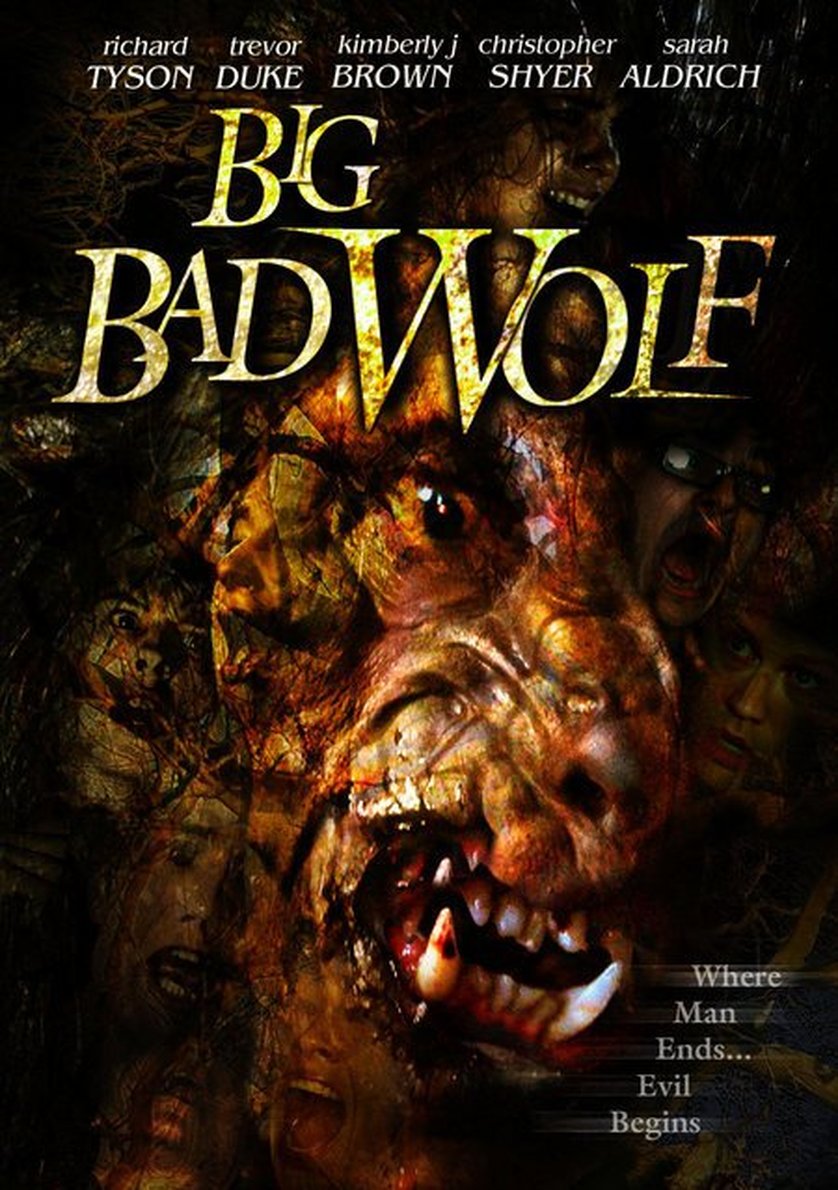 Reviewed by: Hellion
Rating:


Director: Lance W. Dreesen
Greetings hellspawns and do-gooders. Hellion here reviewing Big Bad Wolf.
When Dereck takes his college friends up to the remote wilderness to spend a wild and crazy alcohol-fueled weekend in the family cabin, little do they know they 're about to be moles…er, accosted by a savage man-eating werewolf, whose one liners are worse than his bite! Luckily, Dereck and his girlfriend survive, but things get even hairier, when Dereck learns his own stepfather may in fact be the Big Bad Wolf! Umm, hey mom, where do you keep the silver?
It 's hard to put a new spin on classic horror tales, especially if you have no budget. Big Bad Wolf tries as hard as it can and succeeds, only because it 's not a complete bomb. It 's just a snappy cheesy little B horror movie that uses lots of sex and gore to sell it as much as the next crappy movie. The difference is, Big Bad Wolf has veteran television and film actor Richard Tyson having the time of his life playing a talking werewolf!
The characters aren't very deep, but they 're likeable enough. They're actually typical stereotypes, geeky hero Dereck , sassy heroine "Sam ", big bad villain Mitchell Toblat, one do-gooder uncle, one unsuspecting mom, and dozens of other dinner entrees for our hungry werewolf.
The story is predictable, thus, the simple plot keeps it moving. Not too many dull moments thankfully. It follows the three point rule in storytelling to a tee. But, there are very few surprises, unless, you count the one DNA donation done the old fashion way. However, the best part of the script is the cheeky dialogue that never takes itself too seriously. How could it? The Big Bad Wolf 's best line is "Let's go to the cabin and get in a little bestiality!" The wolf is armed with dozens of one-liners so cheesy, you won 't laugh out loud but you 'll definitely smile over how utterly lame they are, i.e., "are you gonna eat that " to the kid whose guts just spilled all over the floor.
The violence and gore is typical for low budget horror, just enough to gross out the squeamish, but not nearly enough for the hardcore horror fans. One my favorite moments though, was when the Mitch wakes up to find a finger in his mouth. He takes it out, looks at it and then pops it back into his mouth, deciding to eat it anyway. Ewwweee….
The man is well aware of what he truly is, full moon or not, and laps it up. Being the wolf makes him bigger, stronger, faster, better and horny as all Hell. For decades, books, novels and stories for years have played upon the sexuality of werewolves but in this movie, they put it to good use. It 's demented, a little sleazy and some scenes are downright wrong, as Mitch retains his sexual prowess whether in human or wolf form. It 's both creepy and sexy, if you 're into that kinda thing.
Writer/Director/Producer Lance Dreesen, who enjoyed mild success with his first production Terror Tract, seems to know how to turn out a good little horror-comedy. If he keeps it up, he might just meet somebody with deep pockets and then sky 's the limit.
Our lead is played by newcomer Trevor Duke in his first bona fide movie role. He was believable as the nerdy hero and should have no trouble finding work in the future if he keeps his nose clean. I mean that literally too.
Despite being a young actor, Kimberly J. Brown, is actually seen her fair share of stage, television and film work. Acting since the tender age of 5, Ms. Brown lends a steady hand to her green co-star and fills out her role nicely as the spunky Samantha or "Sam ", who makes the most outta getting cornered by the wicked step-dad. Looks like cute girl mechanics are in, supermodels are out!
The best performance by far is that of our villain, the Big Bad Wolf a.k.a. Mitchell Tablat, played with extra creepy flair by a slurring Richard Tyson. The drunken, off key behavior is actually part of the role but it gets a little annoying after a while and you begin to wonder if maybe the acting sucks. It's on purpose. Thank goodness, the most entertaining parts are those funny one-liners the Big Bad Wolf throws out regularly, particularly after a kill. Tyson, has been on the Hollywood beat for years and is probably best known for his sleazy role in Kindergarten Cop, opposite the California Governator. At 6'1, his menacing look has provided him a steady roles both small and big in action films both big and small. However, Tyson 's resume is also filled with dozens of comedic roles, making it easy to understand how he came to play the wolf. It's a natural fit. Think The Wolfman meets Freddy Krueger!
I cannot forget to mention the few entertaining cameos, first, by David Naughton of American Werewolf in London fame. He plays the sheriff and that 's about all unfortunately. The second notable cameo is by Clint Howard, brother of famed director Ron Howard. One of the few child stars that didn't fall apart after age 13, Clint Howard has become a bit of an icon for B movie fans. If you need a recognizable but not so famous face to play some random guy delivering ominous warnings to lost teenagers, Clint 's your guy!
The cornerstone to every werewolf movie is the transformation, done here with… camera tricks? I 'm almost positive there 's little or no CG. It 's fairly obvious that the wolf is all make-up and a suit, but honestly, the more Hollywood move towards using computer animation in movies for everything, the more respect I give to those little guys still turning out a good old fashion costume. There 's still some imagination left in Hollywood.
With a short running time of 95 mins, the most you can expect from Big Bad Wolf is a cheesy, fun, humorous romp. I've heard some people hold this movie to the likes of Dog Soldiers or the Howling. I must have high standards, because the I can only give this movie two pitchforks. Okay, okay, you caught me on good day, two and half pitchforks.