---
Post contains sponsored links.
---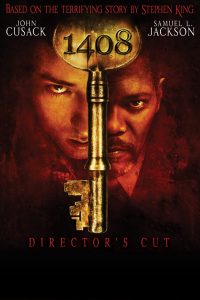 Rating:


Director: Mikael Håfström
I'm a skeptic when it comes to Stephen King movies. For every great movie like The Shining, Dolores Claiborne, and The Shawshank Redemption, there are many more duds with King's name attached. 1408 captured my attention precisely because John Cusack and Samuel L. Jackson were involved, and I'm happy to say I was not disappointed.
Mike Enslin (John Cusack) is a has-been paranormal writer who spends his nights in off-the-beaten-path hotels looking for signs of ghosts and ghouls. Hotel rooms, as Enslin states, are naturally creepy places. You have no idea how many people have gotten sick or died in each of the beds. Worse, stories of paranormal activities bring in more guests, so hotel owners embellish stories of ghost sightings, weird noises, fake photographs, and murder/suicides to get a high rating on Enslin's 10 Skull Scale of the scariest places in America.
Enslin took up campy horror writing after the loss of a loved one shook his faith in God. He'd like nothing more than to find evidence of an afterlife, so he meticulously explores rumored hauntings with EMF readers and infrared equipment. Despite this, he's never found evidence of life after death and his experiences have made him cynical, though they are the only way he knows of dealing with and running from his past.
One day, Enslin receives a mysterious postcard warning him not to stay in room 1408 of the Dolphin Hotel in New York City. A search through old newspaper records uncovers over 20 mysterious suicides so he makes 1408 his next hotel room stay, though returning to New York opens old emotional wounds.
Actually booking room 1408 proves more challenging than Enslin imaged, adding to its mystique. When Enslin arrives, Gerald Olin (Samuel L. Jackson) does all he can to convince Enslin not to stay. The exchange between these two is superb as Olin pulls a detailed history of the 56 deaths (natural and suicides) and other accidents that occurred in the room. Of the more bizarre, a man drowned himself in his chicken soup and a maid got locked in the bathroom for about ten minutes and blinded herself. He warns that no one has lasted longer than an hour in the room and he implores Enslin to reconsider because he does not want to clean up the mess. He even tries to bribe Enslin to change his mind with fine liquor and sports tickets, but Enslin adamantly declares he will stay in that room. Finally, Olin concedes defeat and offers Enslin the key.
What follows is a stream of bizarre occurrences that may or may not be a trip through Enslin's consciousness. The clock radio plays the eerie song "We've Only Just Begun" by The Carpenters and begins a 60-minute countdown to Enslin's impending doom. Enslin must deal with bizarre manifestations of people leaping to their deaths, phantom attackers, bleeding walls, a cheery phone operator who offers him "express checkout" – a noose by his bed, and a broken thermostat that acts as a sauna one minute but drops to below freezing the next. Enslin's real terror comes from his tortured psyche where visions of his deceased father and his estranged wife and daughter come back to haunt him.
Though there are some minor missteps in the plot in the last third of the movie (Enslin screaming threats into his refrigerator at Olin is laughable and his "dream within a dream" sequence is cliche), Cusack gives a phenomenal performance with great facial expressions and candid attempts at logically explain away his experiences. We want to believe this may just be a bad dream, that Olin drugged him, or that somehow, this isn't real. Whatever it is, and the movie leaves us hanging somewhere in between real and imagined, it's disturbing.