---
Post contains sponsored links.
---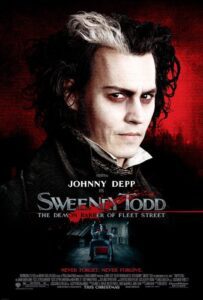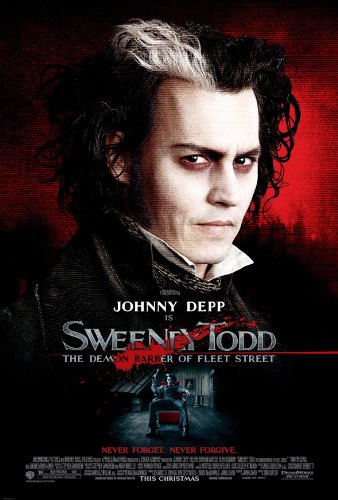 Though the story of Sweeney Todd: The Demon Barber of Fleet Street has been around for well over 150 years, it's most famous telling is that of Stephen Sondheim's Broadway musical that debuted in 1979. Now, Director Tim Burton has adapted the grotesque adult fairy tale for the big screen.
Benjamin Barker returns to dingy 19th century London under the alias, Sweeney Todd (Johnny Depp), to take revenge on Judge Turpin (Alan Rickman) – the man who falsely imprisoned him 15 years ago and seduced Barker's wife. Through the widow, Mrs. Lovett (Helena Bonham Carter), who lives beneath his old barbershop, Barker soon learns his wife poisoned herself years ago and Turpin has been caring for their daughter, Johanna (Jayne Wisener).
With no hope of rekindling his once loving and happy life, Todd morphs into a bloodthirsty demon of rage who offers his customers the "closest shave he's ever given," slitting their throats and dumping the bodies head first onto the basement floor of Mrs. Lovett's meat pie bakery. "They all deserve to die," Todd sings as he looks down on London life.
Todd's appearance matches his despair. Dark rings circle his dead eyes. His pale skin is ghostlike as if he died long ago and now haunts London. With his silver barber blades in hand, he sings "My arm is now complete again!" almost as an homage to his previous Edward Scissorhands role, though Todd is far more sinister.
For her part, Mrs. Lovett has always pined for Todd and is willing to overlook his vengeful nature in hopes of one day escaping her melancholic London life for a surreal fantasy world, which we glimpse in her song, "By The Sea." She cooks up Todd's victims to create exquisite meat pies that London citizens scarf up. The only drawback is the horrible stench that permeates the city, which comes from incinerating human remains in her pie oven.
Mrs. Lovett's black circles around her eyes and pale skin hint at her difficult life. Though she's desperate for easier times, she still retains compassion. In one scene, a rival barber, Pirelli (played by Sacha Baron Cohen in a hilarious cameo), recognizes Todd as Barker and tries to blackmail him. Todd murders him and is about to do the same to his assistant, a young orphan boy named Toby (Ed Sanders), when Mrs. Lovett asks him to spare Toby's life. Throughout the movie, the two develop a close mother/son relationship giving her at least something to hold onto.
Things become more complex when a young sailor, Anthony (Jamie Campbell Bower), who Todd met on his voyage back to London, sees Johanna sitting by her windowsill and is captivated by her beauty. Judge Turpin will have none of that as he wants Johanna as his bride and goes to extreme measures to keep Johanna from him.
Unfortunately, Anthony and Johanna's relationship is hard to swallow and consists mainly of longing glances from afar. The two don't actually speak with one another until Anthony rescues her from Turpin's grasps and by that point, you wonder why Johanna is willing to run away with some guy she's only seen gawking at her through her bedroom window. Apparently, Burton cut several of the original musical numbers, including a song between the young would-be lovers called "Kiss Me" that may have deepened their relationship
For a musical with a non-professional singing cast, the film is quite good. Johnny Depp sang backup in a rock bank before he got into acting which adds to Todd's "bad boy" personality. Carter's voice is thin but she adds tenderness and dark humor to the mix. I also loved the duet between Alan Rickman and Johnny Depp as they sing of the wonders of women.
The film is visually Burtonesque with dark, muted colors painting London as a gloomy, overcast place. Mrs. Lovett's shop is covered in dust and overrun with cockroaches while Cinematographer Dariusz Wolski (the "Pirates of the Caribbean" films) and production designer Dante Ferreti ("Gangs of New York") add contrast when they show flashbacks to Todd's happy past life, which are illuminated in warm yellow lights, in Mrs. Lovett's fantasies, which are surreal and color-saturated, and of course, with the bright red blood that sprays gruesomely whenever Todd slits another victim's throat.
Burton's Sweeney Todd is probably the bloodiest musical you'll see. It's visually stunning, and while it's not the most upbeat movie, the ending leaves a faint hope that at least a few characters might escape the nightmare.