---
Post contains sponsored links.
---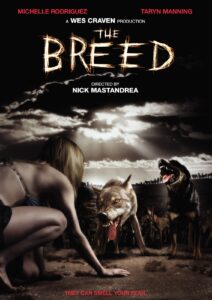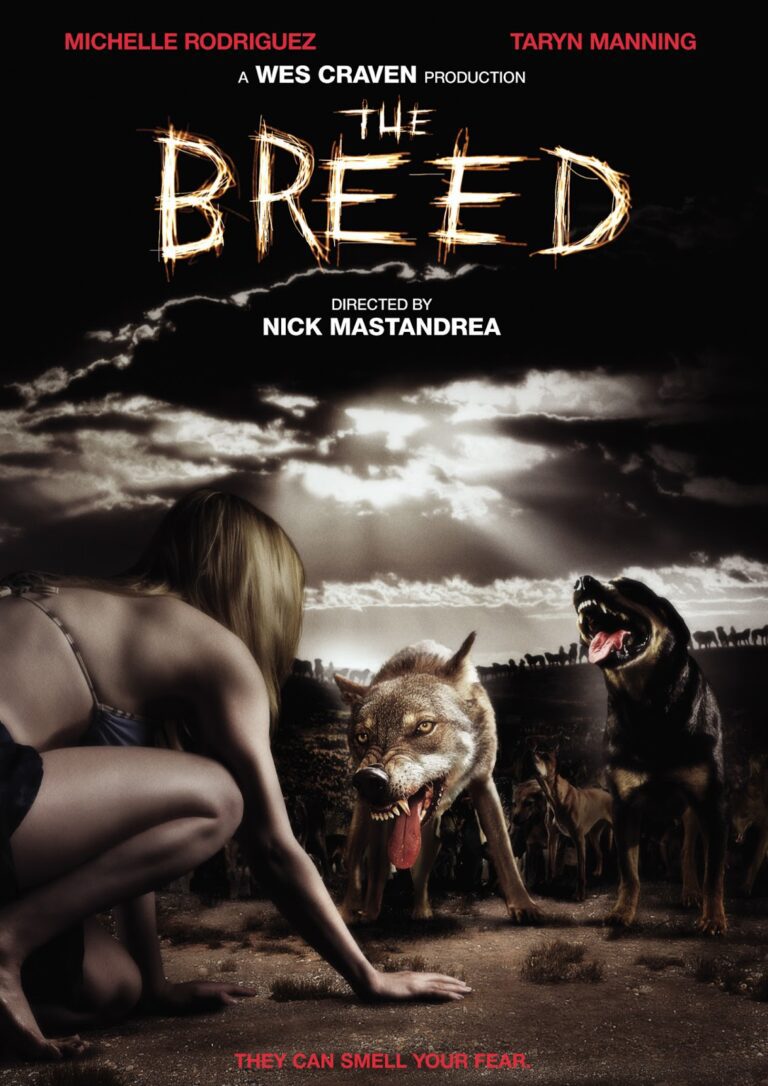 Reviewed by: Hellion
Rating:


Director: Nicholas Mastandrea
"Death by dog is brutal, man!"
Greetings hellspawns and do-gooders! Hellion here, reviewing Wes Craven Presents The Breed.
A group of college students plan a fun-filled weekend getaway to a cabin on a deserted island, only to find it's overrun by a ravaging pack of genetically altered dogs.
The Breed is like Stephen King's Cujo meets Man's Best Friend, times ten, minus the charming personalities of Cujo and Max. Viewers are treated to a somewhat spooky beginning early on in the movie, but then, for the next 40 minutes, we get to learn all about our unlucky weekend vacationers… and they're pretty darn boring. Let's see, there are two squabbling brothers, Matt's an overachiever and John's the hotshot; Nikki, the overachiever's girlfriend who just so happens to be the hotshot's ex-girlfriend, no tension there; Sara, the blonde bimbo, a childhood friend with a crush on John; and Noah, the token black guy, there to provide annoying comic relief. Some of his one-liners were so dumb, I couldn't wait for him to get killed!
Despite the yawning, get-to-know-the players at the beginning, The Breed manages to stick to the cliched plot and doesn't contain a whole lot of confusing subplots. This leaves most of the mystery intact until the end and makes it a simple survival story. The humans must match wits with man's best friend to stay alive and get off the island. The dogs are possibly remnants of a dog training facility that was shut down due to a severe rabies outbreak. As if a pack of rabid dogs wasn't enough to seal the fates of our young party-goers, these dogs were also trained to think, trained to outsmart, and trained to kill their human counterparts. Thus, the movie becomes nothing more than a series of failed attempts for the group to try and get off the island. Some scenes are scary. However, most are laughable.
Okay, I lied, there was one confusing subplot: when Sara gets bitten by one of the dogs, she begins to take on certain traits of the rabid animal and starts to think like the dogs, even communicate with them. What was confusing about it was they never fully explained why this happened, how it happened, or even developed it. If you weren't paying attention, you might have missed that she actually was communicating with them. It just was drummed down like they weren't really sure if they wanted that to be part of the storyline. One minute she was fine, the next she wasn't. Her newfound animal instincts did manage to save her friends but unfortunately, she ended up sacrificing herself without any answers. So it was quite a letdown.
Throughout the movie, the camera shows a close up of one or two dogs that I thought were the leaders of the pack, the alpha male, the alpha female, the "villain." Despite more menacing markings or larger physical presence, neither dog was again portrayed as the leader. The whole pack was the villain. So, what viewers are left with is a group of equally savage dogs, sharing in the responsibility of tearing humans limb for limb. Very undoglike, the sharing part that is. I suppose it could have accounted for that training the dogs underwent. It's implied the dogs could think and reason, but nature tells us there's always a dominant leader. So from a story standpoint, being that none of the dogs had any personality whatsoever, a strong alpha male/female was needed to guide viewers into understanding that dogs are in fact wild beasts who are willing to kill humans for food when necessary. It's man who has trained dogs to be reasonable. Take man out of the equation, as shown here, dogs revert back to their true natural selves. Because no back story or explanation about the dogs was actually given, despite the casual mention that they were genetic experiments, we'll never know.
"90% of the budget went to Michelle Rodriguez," according to one of my relatives. Yes, the budget was small but I still doubt that to be true, being that Michelle Rodriguez seems to be considered more a liability than hot property these days. For all argumentative purposes, Michelle is indeed the movie's lead, hard to tell, however, with a fair amount of screen time going to the whole group. At least, it was a different role for Michelle, who's built a career out of playing ass-kicking tough chicks. While still very athletic, the character of Nikki was softer and more subdued.
Also starring, TV teen star Oliver Hudson, who is both charming and arrogant enough here but how he escaped getting his throat ripped out is beyond me. Taryn Manning, whose turn in Hustle and Flow was fantastic, and what I thought would have guaranteed her stardom, sadly here, she is reduced to erratic behavior, bad dialogue, but a cool death scene. Not enough to overlook she's starring in a crappy b horror film. Rounding out our cast are TV teen star Eric Lively starring as the brainy brother and lastly, veteran TV and film actor Hill Harper, best known for CSI: NY. I couldn't help but notice that the cast was not a group of young twenty-somethings that are usually found in horror films like this one. I wonder if the script had reflected an older group of thirty-something friends camping if the mood of the story would have changed some. Maybe even if younger actors were cast.
Nick Mastandrea, who is a well-known and highly respected second unit/assistant director and producer in Hollywood, tries his hand at sitting in a hot seat. The shots he gets are effective. The story was okay but dripping with dumb cliches and flat characters. What really stands out the most is that this horror film is rather tame compared to recent hits like Saw and Hostel. In Hollywood, if you don't have a strong story, you better have plenty of gory. The Breed has neither. It simply wasn't scary enough for anyone not suffering from cynophobia or over the age of 14. I expected more from Horror maestro Wes Craven as the executive producer. Seems some serious miscalculations went into this film and then after a while, people just gave up trying to save it.
Instead, this 87-minute snoozefest had more bark than bite. Rated R for some foul language and violence, this movie could have easily been rewritten for a PG-13 audience. Who knows, that might have changed the dynamics of the film, now being looked at as a "teen thriller," sorta like Disturbia. Clearly, a younger cast would be needed to ensure success. I give Lassie's demented cousins one pitchfork. Save your money, go rent Cujo. Better story, better acting, better rabid dog.