---
Post contains sponsored links.
---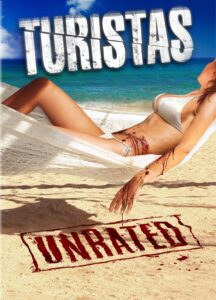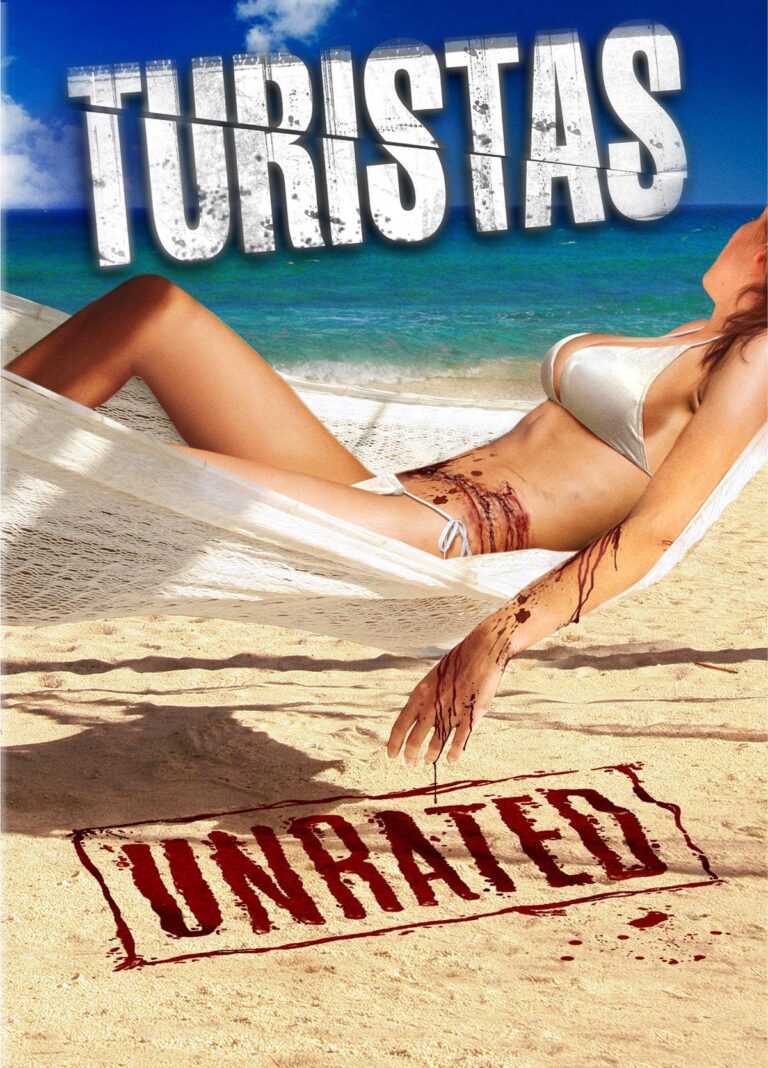 Reviewed by: Hellion
Rating:


Director: John Stockwell
"This guy has plans for you… his plans are pretty elaborate."
Greetings hellspawns and do-gooders. Hellion here reviewing Fox Atomic's Turistas.
After a bus accident strands a group of international tourists near a remote Brazilian beach, the group makes the most of their trip by partying in a local bar. But their perfect vacation paradise quickly turns into a nightmare after being robbed of everything. Stranded, penniless, and unable to speak the language, the tourists are forced to seek refuge deep in the jungle at the home of a deranged doctor.
In this "Hostel" with beach babes, viewers get plenty of beach babes but filmmakers skimped on the Hostel. Oh, there were some similarities, each movie takes about an hour and a half to get to the good part, senseless gory killings. But where the imaginative and scary Hostel tells the story of a group of tourists getting kidnapped and butchered in a torture game produced by madmen to the highest bidder, the lackluster Turistas spends most of its time showing off the Brazilian countryside. I'd be lying if I said the film wasn't eye candy at times (and I'm talking about the cinematography, not just the actors.) With luscious landscapes, deep blue waters, and white sand beaches, the movie easily succeeds in presenting Brazil as a paradise.
Any country's board of tourism department could use Turistas as a how-to guide of what not to do while vacationing in a foreign country. The film's characters are so stereotypical it's pathetic: the nerdy American boy chasing after the sexy bilingual girl, bimbo American girls only wanting to party, loud and obnoxious English fellows only interested in getting drunk and chasing after bimbo girls, the goofy kid trying to make friends by showing off the English skills he learned by watching years of Baywatch and the quintessential laid-back, super-cool, backpacking Swedes ready for whatever comes along. Yeah, they killed first. So, after a night of partying on a beautiful beach, our tourists, who were also drugged, wake up to find themselves with nothing but their bikini tops and trunks. Just like Hostel, all the unfortunate events were calculated to steer our protagonists into a trap. Unlike Hostel, we see the face of our bad buy early on. He is a normal, regular person and truthfully, he doesn't even look like a bad guy. In fact, he's a doctor who believes passionately in what he's doing. It just so happens to involve killing tourists to succeed.
Actor turned director John Stockwell, tries his hand with the horror/thriller. The results are much like his action films (i.e. Blue Crush, Into the Blue, etc.,) beautiful people in beautiful locations with a not so pretty script. Once again, the acting wasn't necessarily bad but the weak story forces the cast into lameness. They're pretty people but there's not much else there. The characters are not very interesting nor amusing. I was more interested in the Brazilian locals than I was in the tourists.
Josh Duhamel is my new hope for America's next big action star. At 6'3, the former model turned actor is young, athletic, good-looking, and a decent line deliverer. He's on the slow and steady track to stardom, each role paves the way for something bigger (Transformers came after Turistas for this guy.) As long as he stays away from Disney kiddie films for the money, I anticipate Josh Duhamel could become an A-list action star within the next few years.
The supporting cast consists of very pretty people I never knew existed until I watched this movie but apparently, like Duhamel, they're all ex-TV stars making their way into big Hollywood movies. Australian native Melissa George from Alias fame, plays Pru, a bilingual tourist who uses her talent to stay one step ahead of the maniacs. Melissa's next project will be to costar alongside Josh Hartnett in another horror film 30 Days of Night. Gee, I hope she's not getting typecast. I haven't heard much about Oliva Wilde or Beau Garrett, but apparently they each enjoyed success on the same screen. No doubt this movie is just a stepping stone and what actor wouldn't want to film on location in Brazil?! Miguel Lunardi plays the doctor while Agles Steib plays the goofy local, Kiko. Both are native Brazilian actors starring in their first American film.
The unrated version of Turistas was not scary or gory, nor terribly exciting. There were mild action and violence, but no more than what they show on cable. My new pet peeve is not being able to see anything on the screen for extended periods of time because the scene is so dark. In this film, I barely saw anything on screen for the last 20 minutes. With so many modern technical advances, you'd think they'd figure out a way to add a light in the corner so viewers can see what was filmed.
Honestly, I debated whether or not to review Turistas, because after watching it, the movie did not seem like a horror film. So, I thought it over for a few days and came to this conclusion…horror films are not just about good looking people getting butchered by madmen. Horror films are about bringing the fears that lay in the back of everyone's mind to the forefront of the screen. What could be scarier than getting stranded in the middle of nowhere, surrounded by people who don't speak the same language as you or have the same customs as you, only to get viciously attacked by killer thugs organized by a ruthless doctor??
Anyone who's ever stepped foot outside their own country knows that's their greatest fear when they go on vacation, (that and they run outta traveler's cheques,) and so that is why Turistas qualifies as a horror film. It tells a simple story of a group of young adults making the wrong choices in a foreign place, which ultimately leads to their untimely demises. Standard slasher fare if you ask me. If they only had shown a little bit more blood.
I give Turistas two pitchforks, if only for teaching me not to take a bus in Brazil.