---
Post contains sponsored links.
---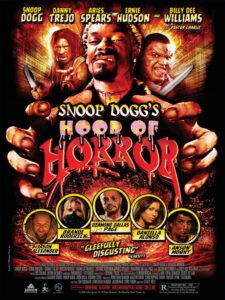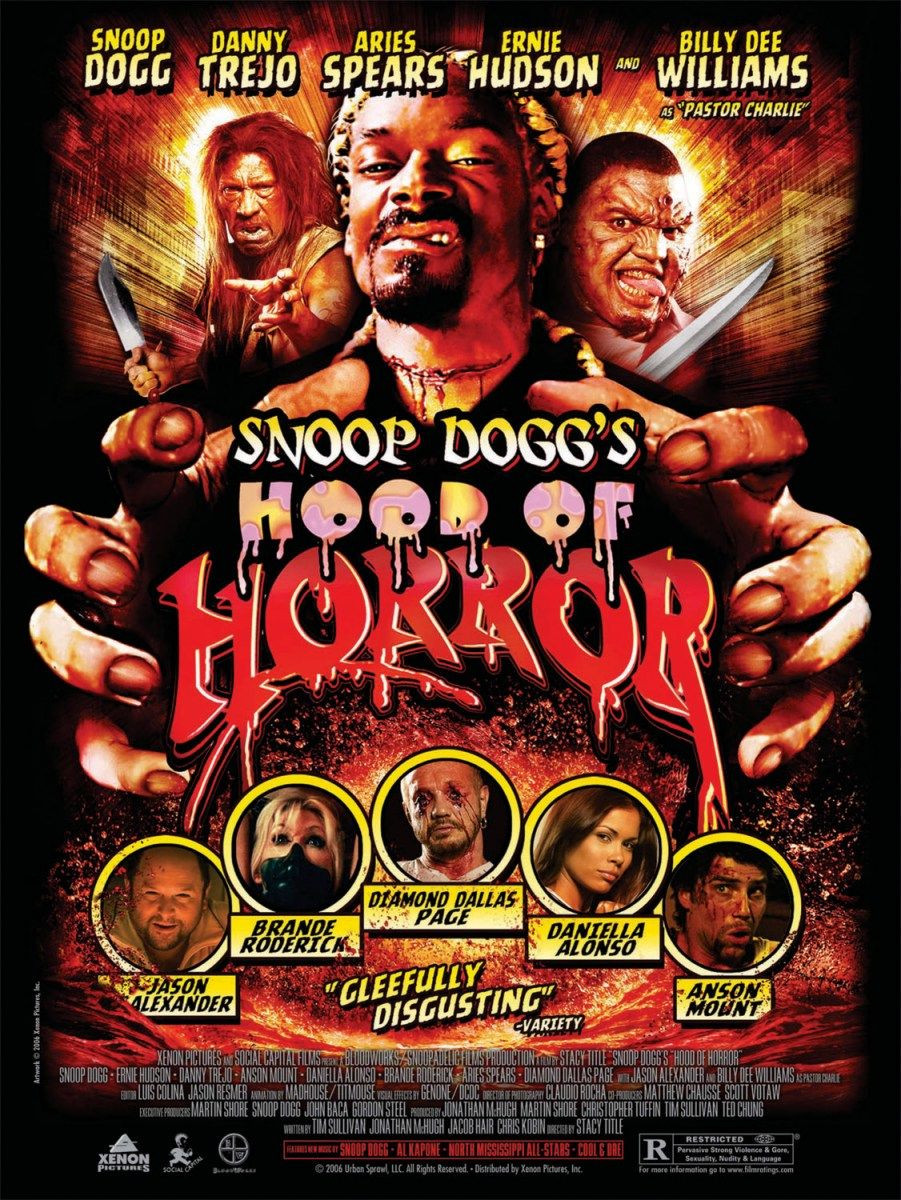 Reviewed by: Hellion
Rating:


Director: Stacy Title
"Welcome to the place where all the creatures meet, the last building the left on a dead-end street."
Greetings hellspawns and do-gooders. Hellion here reviewing Snoop Dogg's Hood of Horror.
An urban anthology of three macabre tales in the inner city, as told by the Hound of Hell played by Snoop Dogg.
Truthfully, there are four stories here because we learn how "the cribkeeper" earned his station in a nice anime sequence that opens up the movie. When a violent shootout with a rival gang kills his baby sister, a young man makes a deal with the devil to bring her back from the dead. In return, he becomes the Hound of Hell, aka the cribkeeper, the guy who shows lost souls their new residence in the Hood of Horror.
The first story introduces viewers to a beautiful and talented young lady named Posie. While hiding out from thugs, Posie meets up with a mysterious bum, who gives her an extremely powerful weapon, the ability to cause the death of anyone she chooses by spray painting out their name. Unfortunately, Posie never learns that with great power comes great responsibility and carelessly starts crossing out the names of every gangster in town, making her a murderer in her own right. The powers that be giveth and they taketh away.
In the second story, we meet Tex Woods Jr. and his bimbo girlfriend Tiffany, heirs to the recently deceased rich Army genera Tex Woods Sr., who struck it rich in oil after returning home from Vietnam. Tex Sr. apparently was a good man who took good care of the former black soldiers that served in his unit by paying for their expenses and providing a nice home in the inner city where the men live happily in retirement. When the old man dies, he decrees in his will that if his son spends one year living with his former men, then he'll receive his inheritance. Instead of learning honor and respect though, Tex Jr. and Tiffany harass the men, try to steal their livelihoods away, and even cause the death of their friends. The men retaliate and the results ain't pretty.
The final story revolves around a selfish young rapper named Sod, who is willing to do anything to get to the top of the rap game. At a private after-party, Sod meets a mysterious woman named Clara, who shows him his evil deeds haven't gone unnoticed. Not long after, Sod's former best friend and rap partner Quon returns from the dead to demand that Sod face the music.
In between, and sometimes mixed in with each story, the Hound of Hell shows up to rap out the evil irony about to take place. With Half-pint, his very own little demon sidekick, and two vampire-"slanks" wriggling by his side, the "cribkeeper" does what the Tales of the Crypt Cryptkeeper used to do on his show, predict a ghastly, perhaps gruesome end, and an even worse afterlife for our lead protagonists.
The concept of Hood of Horror should have been better than what was presented. There was talent there and good intentions, but once again, urban horror is comical to most people because it doesn't take itself seriously enough to be considered scary. With so much death and destruction a part of regular daily life, real inner-city folk don't bother with tales of the boogeyman and such. Hood of Horror instead went for the cheap thrills, gory violence, scantily clad girls, and foul language. It was like watching a really long rap video. The stories are predictable and not particularly intelligent, but worst of all, where there was a spot for humor and blatant cheesiness that has saved many a B-film from total obscurity, there were dozens of missed opportunities that could have turned this movie into a cult hit.
Snoop Dogg has made a career out of basically playing himself. One can't write better characters than Snoop Dogg. He's always fascinating, always controversial, always unique, and always charming, whether he's good or bad. Usually, all Snoop ever has to do is show up and say the lines in his infamous style. That, unfortunately, works against the movie this time. Here, as a ghetto crypt keeper, the Hound of Hell desperately tries to find his own voice. Since the anime sequences set up the backstory for the character, viewers feel he is indeed a real character and not just Snoop Dogg. There's some mystery there, some sympathy even, but by the time the live-action starts, most of that is forgotten immediately. The Hound of Hell is again, just Snoop Dogg, with his entertaining raps and funny looking demon entourage kicking it by his side.
Relatively unknown, director Stacy Title, does what she can. The low-budget made good with some nice special make-up effects, costumes, and set design. It's the writing that is bad here not the directing. And, the acting isn't bad either. The movie is loaded with B actors and personalities, such as Ernie Hudson, Danny Trejo, Billy Dee Williams, Lin Shaye, Dallas Page, Playmate Brande Roderick, Sydney Tamiia Poitier, and dozens of other familiar faces from TV and movies. The acting is believable enough. It's over the top where it needs to be and solid when it needs to be. You could probably spin a movie off of Danny Trejo's mysterious crazed derelict.
With a running time of 84 mins and an R rating for strong language, violence, gore, sex, and nudity, Hood of Horror could have easily been edited down for a PG-13 audience and probably would have been a more successful movie. Edit down even further and turn it into a weekly series for TV, say HBO, Hood of Horror might have been another hit like Tales of the Crypt. Staff it with good writers, employ veteran actors to guest star in different episodes, and more importantly let Snoop flesh out his cribkeeper, a little less Snoop, a little more Hound of Hell. I'd watch it! I would give the show a chance because again, the idea of Hood of Horror is a pretty good one. It just didn't have all the right elements.
I've read that Snoop's big horror fan, that's why he likes doing these types of movies. I patiently await the day where he decides to do a real serious horror movie. Until then, this urban splatterfest only gets two pitchforks.