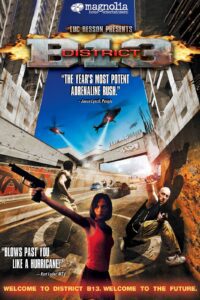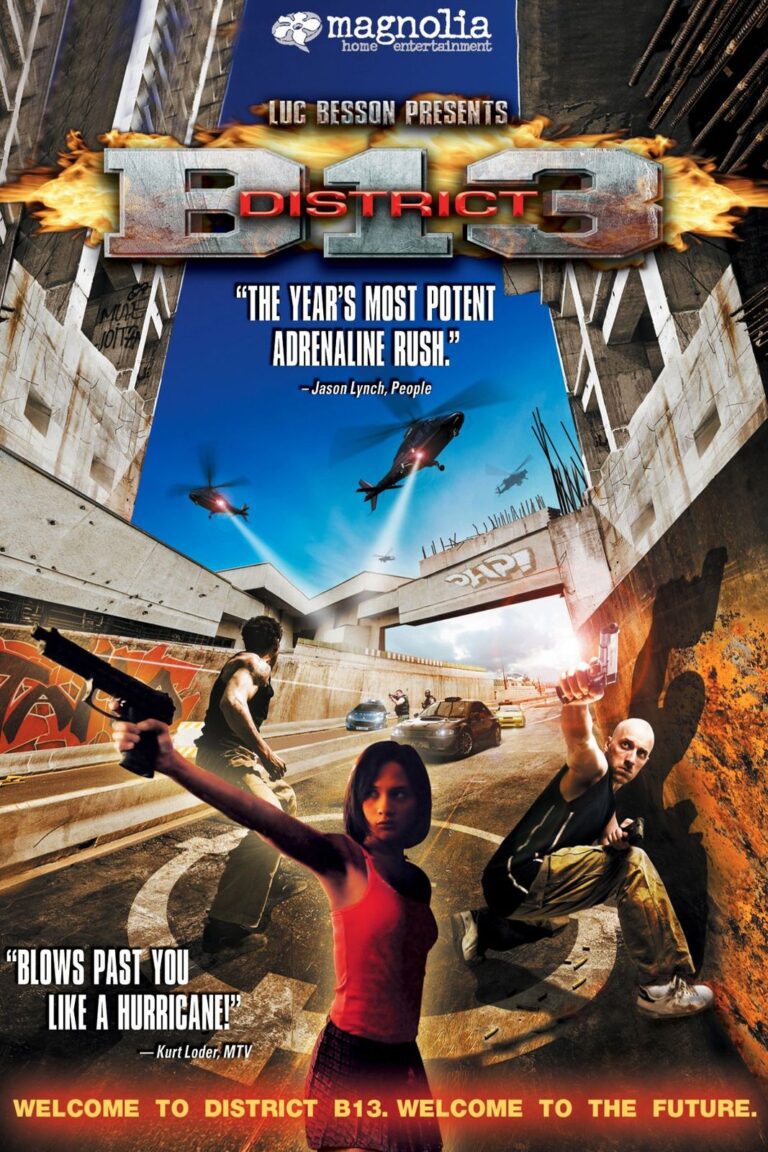 Rating:


Director: Pierre Morel
Written and produced by Luc Besson (La Femme Nikita) and directed by Pierre Morel, the cinematographer for Jet Li's Unleashed, District 13 (Banlieue 13 in French) is a futuristic, fast paced action film set in France and staring Parkour legend, David Belle.
I had never heard of Parkour until I saw the film, so if you're not familiar with this new extreme sport, here's how it works. Basically, you just start running and adapt to your environment as you go without slowing down. If an obstacle is in your way, you find a way around it – through jumping, climbing, or other Parkour movements. It's amazing to watch because it requires martial arts-like reflexes and mental zen with your environment. (Check out the Wikipedia article or the Parkour.com site for more info)
The story takes place in 2010 in a futuristic France. The government has built a wall around the ghetto – called District 13 – to keep the drug dealers, gangs and crime lords from getting out. Inside, crime runs rampant but Leito (David Belle) is one of the good guys who fights to improve his neighborhood and keep his sister Lola safe.
When the movie begins, Leito has just stolen several bags of heroin from the ghetto's most feared crime lord, Taha. He quickly washes the drugs down his bathtub drain just as Taha's minions arrive to beat the crap out of him and take back their dope. But Leito's a slippery guy, schooled in Parkour, and thus begins one of the most impressive foot chases you'll see in film.
David Belle is absolutely breathtaking to watch as he jumps across rooftops, down flights of stairs, and dives through windows and small spaces without breaking his stride. He makes it seem effortless as he gracefully avoids any obstacles in his way.
After Leito escapes capture, Taha's men capture his sister, Lola. When Leito finds out, he heads into Taha's lair, kicks serious ass, rescues his sister, and takes Taha to the police. But this wouldn't be much of a movie if it ended there. Instead of locking Taha away, the police decide to release him with Lola as his prisoner and lock Leito up for disturbing the peace. Leito's revenge is to brutally kill the policeman that handed over his sister and lands himself in jail for 6 months.
Six months later, the main story begins. Damien (Cyril Raffaelli) is an undercover cop who learns that Taha's men got their hands on and accidentally activated a government bomb. Now, Damien has 24 hours to retrieve the bomb before it kills everyone within an 8 kilometer radius. To do so, he needs someone who knows the ins and outs of District 13 – and Leito needs an opportunity to rescue his sister from Taha's clutches. Together, the two take on Taha's men as time ticks away.
After the first 20 minutes of quick-paced action, the rest of the film feels like a let down. Sure, there is still lots of action, but nothing that can top those opening scenes. To be fair to the story, the film does tackle government corruption and how all citizens should have equal rights, the political message takes a backseat to the action. If you're looking for a film to turn your brain off and enjoy the action, this is a great choice.