The Goetia does not include Pruflas as a demon. However, the picture of Purson in Mather's Goetia corresponds with Pruflas in the Dictionnaire Infernal. Both Purson and Pruflas are listed in Wier's list, but only Pruflas is listed in de Plancy's list. (See comparison page for details.)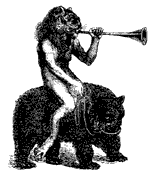 Dictionnaire Infernal – Collin de Plancy (1863) (paraphrased)
As high prince and grand duke of hell, Pruflas/Busas commands 26 legions. In Babylon, where he shall reign, he has the head of an owl. Pruflas facilitates quarrels and wars, provokes discord, and generates poverty. He will respond to all he is asked to do.
Pseudomonarchia daemonum – Johann Wier (1583) (quoted)
Pruflas otherwise found as Bufas, is a great prince and duke, whose abode is around the Tower of Babylon, and there he is seen like a flame outside. His head however is like that of a great night hawk. He is the author and promoter of discord, war, quarrels, and falsehood. He may not be admitted into every place. He responds generously to your requests. Under him are twenty-six legions, partly of the order of Thrones, and partly of the order of Angels.