Mesopotamia, the cradle of civilization, was home to ancient cultures such as Sumer, Babylon, and Assyria. They left behind impressive achievements in art, literature, science, law, and religion. They also inherited and adapted many of their religious beliefs and practices from the Sumerians, the first people to develop writing and urban life in Mesopotamia. Their written records reveal their myths, rituals, magic, and divination practices, as well as their worldview and cosmology. Among their religious beliefs were a variety of evil spirits and demons.
In this article, we will explore some of the most common and important classes of demons in Assyrian and Babylonian demonology. We will focus on four types of evil spirits: the udug/utukku, the asag/asakku, the alu, and the lilu. We will examine their origins, characteristics, functions, and representations in ancient texts. We will also discuss how the ancient people perceived and interacted with these demons, whether they feared them or sought their help.
The Ancient World of Assyrian & Babylonian Demonology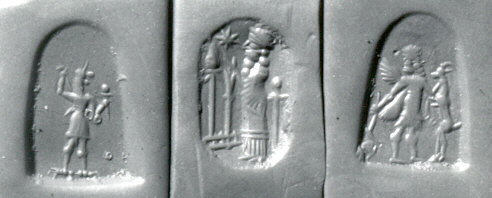 The term "demon" is not native to Mesopotamian culture, but rather a generic term borrowed from Greek culture that expresses the idea of something related to the extra-human sphere. The supernatural beings in Mesopotamian belief systems could take various forms, such as human ghosts, animal hybrids, or divine entities, and they could inflict diseases, misfortunes, or curses on humans or assist them with protection, healing, or divination. These beings influenced human life in positive or negative ways, depending on their nature and role. They can be divided into two main categories:
Ghosts of the Dead
These were the spirits of humans who had died and could not rest peacefully. They could haunt the living for various reasons, such as improper burial, lack of offerings, or personal grudges. They could be benevolent or malevolent, depending on their mood and circumstances. For example, in the Epic of Gilgamesh, Enkidu's ghost tells Gilgamesh about his miserable fate in the underworld after his death. Other examples of ghosts of the dead in Mesopotamian literature are the ghost of Dumuzi in the Descent of Inanna or the ghost of Etana in the Myth of Etana.
Non-Human Spirits
These were spirits that had never been human and often had animal features. They could be friendly or hostile, depending on their nature and role. Some of them were associated with natural forces, such as storms, diseases, or chaos. For example, in the Enuma Elish, Tiamat creates an army of monsters to fight against Marduk and his allies. Some of these monsters are later assigned to guard the gates of the underworld in the Descent of Inanna. The non-human spirits could be either born from the intercourse of An and Earth or created by other gods, such as Tiamat or Enki. Their physical characteristics are described in various sources, such as the Epic of Creation or the Poem of Erra.
The ancient people feared and respected these supernatural beings and tried to protect themselves from them or appease them. They used various methods, such as rituals, spells, amulets, or offerings to deal with them. For example, they buried their dead with proper rites and provided food and drink for their ghosts. They also wore protective charms or recited incantations to ward off evil demons. Some examples of texts or objects that contain these methods are incantation tablets, apotropaic figurines, or kudurrus.
Evil Spirits in Assyrian & Babylonian Demonology
The supernatural beings of Assyrian and Babylonian demonology could influence human life in positive or negative ways, depending on their nature and role. For instance, they could cause diseases, misfortunes, or curses, or they could offer protection, healing, or divination. We will focus on four types of evil spirits: the udug/utukku, the asag/asakku, the alu, and the lilu.
Udug/Utukku: The Restless Dead
The Udug demon is a mysterious figure in Mesopotamian magic and religion. The name Udug, or Utukku in Akkadian, is a generic term for "demon" that can refer to various kinds of supernatural beings, both harmful and helpful. The Udug demon has no clear description or depiction in the ancient sources, and its origin and meaning are obscure.
Some possible clues about the nature of the Udug demon can be found in its linguistic associations and its roles in different texts. The Sumerian word Udug may be related to words meaning "weapon", "unclean", or "taboo", suggesting some aspects of the demon's character. The Udug demon can also be equated with other demonic terms, such as Šēdu, Rābiṣu, or Maškim, which imply that the Udug demon can either obstruct or protect humans. The Udug demon may also serve as a representative of a god, especially in relation to diseases and plants.
The Udug demon appears frequently in incantations and magical rituals, where it is often invoked as the head of a list of demons or as a single adversary or ally. The Udug demon can also appear as a divine emblem, such as the scepter of Anu. However, the Udug demon is absent from diagnostic texts and from later magical compositions, where other demons or ghosts replace it. The Udug demon seems to have no distinctive personality or features but rather represents a generic and neutral concept of "demon" that can be modified by different contexts and attributes.
Asag/Asakku
Asakku, also known as Asag, is a demon who represents the forces of chaos, winter, and volcanoes. He also brings various diseases to humans and animals, such as epilepsy, fever, malaria, and headaches. He has a hybrid appearance, with a dog's mouth, a lion's legs, an eagle's claws, and wings of birds. He lives in the mountains and roams the steppe, causing harm and misfortune to everyone he encounters.
He is one of the main enemies of Ninurta, the god of war and agriculture. In the epic of Lugal-e, Asakku attacks Ninurta with his army of stone creatures, creating darkness and bloodshed. Ninurta defeats him with his magic weapon Sharur, which can talk and fly.
Asakku is also a demon of taboo and impurity. He is invoked in spells and rituals to repel evil forces and cleanse the patient from illness. He is sometimes used as a substitute figure to chase away other harmful demons that are too dangerous to name.
He belongs to a group of seven (or eight) evil spirits, who are the children of the gods An and Ki. These spirits serve Nergal (Erra), the god of war and pestilence. They are sometimes called sebittu in Akkadian or iminbi in Sumerian. They are also known as 'Seven and seven' or 'Seven times seven', and are often listed in incantations that are used to protect people from their harm.
Alu: The Nightmarish Creatures
Another type of demon that terrified the Babylonians and Assyrians was the alu. The word alu means "tempest" or "storm" in Akkadian, and it reflects the chaos and destruction that these demons caused. The alu were half-human, half-animal creatures that roamed the streets at night, hiding in dark corners or deserted places. They could take various forms, such as bulls, dogs, lions, scorpions, or snakes. They could also change their shape and size, appearing as large as mountains or as small as flies.
The alu were especially feared for their ability to cause nightmares and sleep paralysis. They could enter people's bedrooms through windows or doors and sit on their chests, paralyzing them and preventing them from breathing. They could also torment them with terrifying visions or sounds, making them see or hear things not there. The alu were sometimes associated with the god Nergal, the lord of the underworld and of pestilence, who was also known for his violent and destructive nature.
Lilu: The Seductive Spirits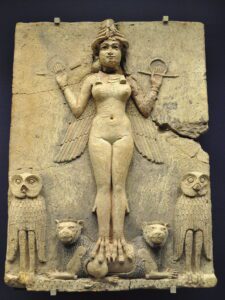 A third type of demon that intrigued the Babylonians and Assyrians was the lilu, which means "wind" or "air" in Akkadian. The lilu was a male spirit who roamed the wilderness or the desert, looking for female victims to seduce or rape. He was often accompanied by two female counterparts: the lilitu and the ardat lili. The lilitu was a female spirit who roamed the cities or towns, looking for male victims to seduce or rape. She was also known as a child-stealer who could cause miscarriages or infant mortality. The ardat lili was a female spirit who was once a human woman but died before getting married. She wandered the earth as a restless ghost, seeking a husband among the living or the dead.
The lilu and his companions were derived from earlier Sumerian demons associated with storms, winds, and diseases. They were also related to other Mesopotamian deities who had similar functions or attributes, such as Ninlil, the wife of Enlil, the god of wind and storm; Ninurta, the son of Enlil, who fought against monsters and demons; Pazuzu, the king of wind demons who could bring or ward off pestilence; Lamashtu, the daughter of Anu, who could harm pregnant women and newborn babies; and Lamia, a female demon who could devour children.
The lilu and his companions were also the source of many legends and stories in Babylonian and Assyrian literature and folklore. One of the most famous examples from Jewish lore is the myth of Lilith, a demoness who dwelled in desolate places and attacked men and children. She was also the consort of various demons and the mother of numerous offspring, who became known as the lilim, or the children of Lilith. The only mention of Lilith in the Hebrew Bible is in Isaiah 34:14, where she is called "the night creature" or "the screech owl".
Conclusion
In this article, we explored the world of spirits and demons in ancient Mesopotamia. We learned about four kinds of these beings: the udug/utukku, asag/asakku, the alu, and the lilu. They were responsible for many troubles that humans faced, such as disease, possession, nightmares, and death. We also looked at where they came from, what they looked like, and how they interacted with other supernatural beings.
Reference