Pseudomonarchia daemonum – Johann Wier (1583) (quoted)
Forneus is a great marquesse, like unto a monster of the sea, he maketh men woondeffull in rhetorike, he adorneth a man with a good name, and the knowledge of toongs, and maketh one beloved as well of foes as freends: there are under him nine and twentie legions, of the order partlie of thrones, and partlie of angels.
Goetia – S. L. MacGregor Mathers (1904) (quoted)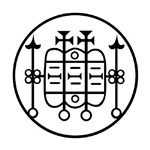 The Thirtieth Spirit is Forneus. He is a Mighty and Great Marquis, and appeareth in the Form of a Great Sea-Monster. He teacheth, and maketh men wonderfully knowing in the Art of Rhetoric. He causeth men to have a Good Name, and to have the knowledge and understanding of Tongues. He maketh one to be beloved of his Foes as well as of his Friends. He governeth 29 Legions of Spirits, partly of the Order of Thrones, and partly of that of Angels. His Seal is this, which wear thou, etc.