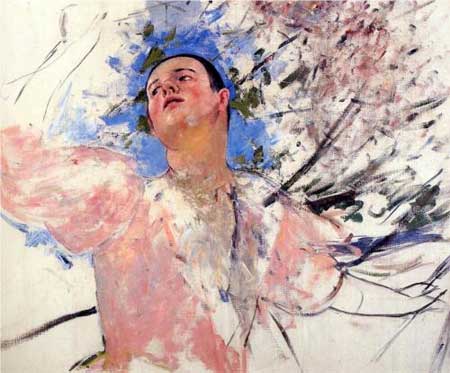 The modern term "Gnosticism" refers to a collection of ideas that arose during the early stages of Christianity. These ideas presented a way of salvation that dealt with the other-worldly and contained a transcendent conception of God. They also maintained a radical dualism of the realms of being – such as God and the world, spirit and matter, soul and body, light and darkness, good and evil, life and death, etc. It should be stressed, however, that there was no gnostic "church" or specific theology or dogma that was followed.
Gnosis as Knowledge
The name "gnosticism" comes from the Greek term "gnosis" meaning knowledge, and refers to the way of achieving salvation, or even presents itself as salvation itself. While much of the gnostic literature associates itself with Christian symbolism, this form of salvation was considered a heresy within the Christian movement. Recently, modern research has broadened the concept of Gnosticism by arguing a pre-Christian Jewish and a Hellenistic pagan Gnosticism – referring to Mandaean sources.
The "knowledge" that is to be gained in Gnosticism refers to what we might now consider objects of faith rather than of reason or worldly objects. It involves knowledge of God, the order and history of the upper worlds, and how man can achieve salvation. To know oneself at the deepest level was to know God. As gnostic teacher, Monoimus, said:
Abandon the search for God and the creation and other matters of a similar sort. Look for him by taking yourself as the starting point. Learn who it is within you who makes everything his own and says, 'My God, my mind, my thought, my soul, my body.' Learn the sources of sorrow, joy, love, hate… If you carefully investigate these matters, you will find him in yourself
– quoted from Pagels, The Gnostic Gospels
Gnosticism Sources
Sources of Gnosticism come from secondary or indirect sources, such as writings by early Christian fathers (Irenaeus, Hippolytus, Origen, and Epiphanius in Greek and Tertullian in Latin as well as others) in their struggle against heresies, rabbinical and Islamic literature refuting gnostic/ pagan religions especially Manichaeanism; and primary sources such as those texts found in the Nag Hammadi corpus and other Coptic libraries.
In 1945, an Arab peasant named Muhammad 'Ali al-Samman discovered thirteen papyrus books bound in leather in Upper Egypt near the town of Nag Hammadi as he and his brothers were plotting to avenge his father's murder. He took the books home, where his mother unsuspectingly burned several to kindle the fire, as he and his brothers continued their quest for revenge. Once the murder was completed, Muhammad feared the police would come looking for him, so he gave the books to a local priest for safe keeping. A local history teacher named Raghib got word of the books and soon they were sold on the black market through antiquities dealers in Cairo.
Not long after, officials of the Egyptian government got word of the manuscripts and 11.5 of the 13 codices were given to the Coptic Museum in Cairo. The thirteenth codex containing was smuggled out of Egypt and offered for sale in America. A prominent history of religion scholar named Professor Gilles Quispel purchased it and headed down to Cairo to view the rest of the 52 texts.
The discovery of the manuscripts was phenomenal. These Coptic manuscripts dating to 350-400 CE were translations of even more ancient manuscripts originally written in Greek. Some must date back at least to the first part of the second century because Irenaeuus, Bishop of Lyons, wrote about the heretical views in some of the texts in 180 CE.
Of the manuscripts, one of the most famous was the Gospel of Thomas, fragments of which had been found 50 years earlier. Some scholars believe an early version of this text was written in the early part of the first century CE – before the canonical gospels were written in 60-110 CE (although the idea is controversial.)
Reference