Pseudomonarchia daemonum – Johann Wier (1583) (quoted)
Gusoin (Gusoyn) is a great duke, and a strong, appearing in the forme of a Xenophilus, he answereth all things, present, past, and to come, expounding all questions. He reconcileth freendship, and distributeth honours and dignities, and ruleth over fourtie [and five] legions of divels.
Goetia – S. L. MacGregor Mathers (1904) (quoted)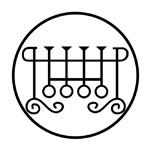 The Eleventh Spirit in order is a great and strong Duke, called Gusion. He appeareth like a Xenopilus. He telleth all things, Past, Present, and to Come, and showeth the meaning and resolution of all questions thou mayest ask. He conciliateth and reconcileth friendships, and giveth Honour and Dignity unto any. He ruleth over 40 Legions of Spirits. His Seal is this, the which wear thou as aforesaid.