Pseudomonarchia daemonum – Johann Wier (1583) (quoted)
Halphas is a great earle, and commeth abroad like a storke, with a hoarse voice, he notablie buildeth up townes full of munition and weapons, he sendeth men of warre to places appointed, and hath under him six and twentie legions.
Goetia – S. L. MacGregor Mathers (1904) (quoted)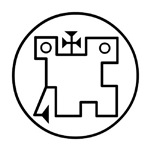 The Thirty-eighth Spirit is Halphas, or Malthous (or Malthas). He is a Great Earl, and appeareth in the Form of a Stock-Dove. He speaketh with a hoarse Voice. His Office is to build up Towers, and to furnish them with Ammunition and Weapons, and to send Men-of-War to places appointed. He ruleth over 26 Legions of Spirits, and his Seal is this, etc.