Pseudomonarchia daemonum – Johann Wier (1583) (quoted)
Murmur is a great duke and an earle, appearing in the shape of a souldier, riding on a griphen, with a dukes crowne on his head; there go before him two of his ministers, with great trumpets, he teacheth philosophie absolutelie, he constraineth soules to come before the exorcist, to answer what he shall aske them, he was of the order partlie of thrones, and partlie of angels, and ruleth thirtie legions.
Goetia – S. L. MacGregor Mathers (1904) (quoted)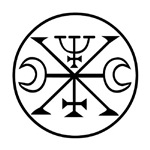 The Fifty-fourth Spirit is called Murmur, or Murmus, or Murmux. He is a Great Duke, and an Earl; and appeareth in the Form of a Warrior riding upon a Gryphon, with a Ducal Crown upon his Head. There do go before him those his Ministers, with great Trumpets sounding. His Office is to teach
Philosophy perfectly, and to constrain Souls Deceased to come before the Exorcist to answer those questions which he may wish to put to them, if desired. He was partly of the Order of Thrones, and partly of that of Angels. He now ruleth 30 Legions of Spirits. And his Seal is this, etc.