Pseudomonarchia daemonum – Johann Wier (1583) (quoted)
Orias is a great marquesse, and is seene as a lion riding on a strong horsse, with a serpents taile, and carrieth in his right hand two great serpents hissing, he knoweth the mansion of planets and perfectlie teacheth the vertues of the starres, he transformeth men, he giveth dignities, prelacies, and confirmations, and also the favour of freends and foes, and hath under him thirtie legions.
Goetia – S. L. MacGregor Mathers (1904) (quoted)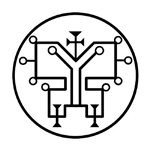 The Fifty-ninth Spirit is Oriax, or Orias. He is a Great Marquis, and appeareth in the Form of a Lion,26 riding upon a Horse Mighty and Strong, with a Serpent's Tail; and he holdeth in his Right Hand two Great Serpents hissing. His Office is to teach the Virtues of the Stars, and to know the Mansions of the Planets, and how to understand their Virtues. He also transformeth Men, and he giveth Dignities, Prelacies, and Confirmation thereof; also Favour with Friends and with Foes. He doth govern 30 Legions of Spirits; and his Seal is this, etc.