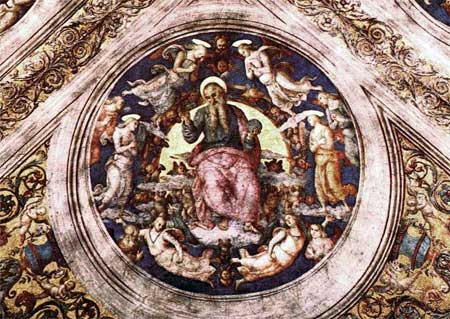 In Ethical Monotheist traditions of Judaism, Christianity, and Islam, there is a concept of an all-powerful, all-knowing, Creator who is morally good, just, kind, loving, and who has our best interests in mind. In the book, God, Timothy Robinson describes this God as
a being who is all-powerful, all-knowing, perfectly good, and wholly benevolent; who is everlasting or in some way beyond time; who neither is contained within any space nor has a unique location in space but is somehow present at all times and places; who created everything that exists other than himself; on whom all other things constantly depend for their existence, but whose own existence depends on nothing else' who is the source of all change but is himself unchanging; who influences the world but is unaffected by it; who approves of and loves what he has created; who controls events in the created universe, intervenes in human history, is an appropriate object of worship and love on the part of his creatures, and is the embodiment of perfect justice and perfect mercy.
You can also add to that that God is traditionally thought of as masculine, or God the Father, although most philosophers (and medieval theologians) believe God to be beyond gender, which is a human characteristic.
Problem of Evil
This introduces a number of potential problems that philosophers and theologians have grappled with for thousands of years – what philosophers call the Problem of Evil. We all can look around and see that there's bad stuff out there. If God, a morally perfect being, ordains everything, how can bad things happen? Why does a loving God allow evil to exist? Innocent children to die? Natural disasters to destroy lives, families, and possessions? People like Hitler and Pol Pot to kill millions of people? Serial killers like Ted Bundy and Jeffrey Dahmer to take lives? Diseases like cancer, AIDS, malaria, and other sicknesses to torture and kill millions? Parasites like screw-flies to painfully destroy their hosts?
Why Does God Let Bad Things Happen?
If God has a plan for everyone and wants us to do specific things with our lives, why does he let us go astray – watching us from a distance, knowing that we may never fulfill his wishes. Surely, if God was all powerful, he could make us do what he wanted.
If you've been brought up in a Christian ideology, your immediate reaction is something like
Sin entered the world when the angels rebelled or when Eve ate of the forbidden fruit – that is, evil exists because humans are free to choose evil over good. God is not responsible.
God is like a loving parent. He punishes sinners for their wrong doings or tests us so that we'll grow spiritually, such as in the Book of Job.
What we perceive of as evil is really the lack of goodness or being. In this case, evil is just a defect.
It's important to look at these questions and how/why such answers were proposed. Many theologians and philosophers spent much of their lives working out answers to these puzzling questions – and anyone interested in one of the Ethical Monotheist religions owes it to themselves to take a hard look at why they believe the way the do about such things.
Do you believe because you were told these things as a kid or as part of your current religious theology? Have you looked at these arguments logically and followed the reasoning to their conclusions? Do the arguments make sense based on what we now know about the world from scientific research? They're difficult questions to ask because they scratch at the foundations on which our fundamental beliefs are based.
Reference