Dictionnaire Infernal – Collin de Plancy (1863) (paraphrased)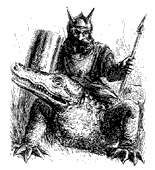 Zaebos is grand-count of Hell and sweet of character. He appears as a good soldier with a ducal crown on his head and rides a crocodile.
Pseudomonarchia daemonum – Johann Wier (1583) (quoted)
Saleos is a great earle, he appeareth as a gallant soldier, riding on a crocodile, and weareth a dukes crowne, peaceable, &c.
Goetia – S. L. MacGregor Mathers (1904) (quoted)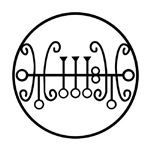 The Nineteenth Spirit is Sallos (or Saleos). He is a Great and Mighty Duke, and appeareth in the form of a gallant Soldier riding on a Crocodile, with a Ducal Crown on his head, but peaceably. He causeth the Love of Women to Men, and of Men to Women; and governeth 30 Legions of Spirits. His Seal is this, etc.