Sorcery of Antiquity
The main testimonies we have from the Greeks (Euripides' Orestes, Gorgias' Helen, Hippocrates' On the sacred Disease, Vettius Valens, and Plato's Symposum), provide only a general awareness of the power and perception of sorcerers, leading one scholar, A.D. Nock to conclude:
What then did the ancients mean by mageia? Broadly speaking three things: the profession by private individuals of the possession of technical ability enabling them to supply recipes or perform rites to help their clients and damage their clients' enemies and… the religions belonging to aliens or on any general ground disapproved. The third use is natural."
Sorcery in Persia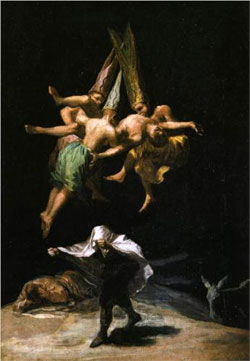 In Persian society, the magoi were priests of a special caste or secret society who were responsible for the religious sacrifices, funerary rites, for divination and for interpreting dreams. Xenophon calls them 'experts in matters concerning the gods,' and they held a high position in the Empire. The author of the First Alcibiades describes that the teachers of the Persian elite teach the mageia which comes from Zoroaster, son of Horomasdus, and is the cult of the gods. (Zoroastrianism was the official religion of Persia until the Arab conquest in 642 CE)
Others hold a more negative perception. Apollonius of Tyana wrote that 'They know a good many things but there are things that they do not know.' (Life of Apollonius 1.26) Heraclitus associates the magoi with the 'vagabonds of the night, bacchants, maenads, mystai,' and practiced at night unlike priests and seers, which made them suspicious characters and similar to Plato's agyrtai and manteis, translated as 'nightwandering wizards' or as 'itinerant diviners and magicians' remain shadowy figures who work on the outskirts of society.
Towards a Definition of Sorcery
Modern scholarly perceptions differentiate sorcerers by their perceived motivations. Andre Bernard, for instance, argued that the sorcerer is motivated exclusively by envy or jealousy (phthonos) whereas Luck adds that the sorcerer is also motivated by greed and by his desire to gain prestige and status. Generally, sorcerers were seen as charlatans in Greek society. They tended to take on clients' who were predominantly hopeful or fearful, and made their money off of people's natural tendency to be concerned with health, wealth, good looks, favorable marriage, children, protection from dangers, etc.
Characteristics of Ancient Sorcerers
Summing up the vast collection of ancient testimonies, Georg Luck concludes that the characteristics of the ancient sorcerer are as follows: (p106)
he/she manipulates higher powers
he pursues specific goals
his rites are specific, individual, although, to us, they may seem traditional and stereotyped
he develops a professional-client relationship – ie he expects satisfied clients to recommend him to other prospective clients emphasizing what he has done for them
when he fails, he modifies his technique
since he cannot rely n a common faith (the gods will help you sooner or later) instant success is everything to him
though he may wish to appear as a benefactor to mankind, he does not feel bound by ethics
Defining a Magician
Additionally, H.D. Betz provides a definition of a magician in his Introduction to The Greek Magical Papyri in Translation that sums up nicely the sense of power and awareness that he is an intermediary between the gods and his clients.
"Applying his craft, the magician could give people the feeling that he could make things work in a world where nothing seemed to work the way it used to. He had handbooks of magic which contained the condensed wisdom of the past, wisdom made effective to solve the problems of the present.

The magician claimed to know and understand the traditions of various religions. While other people could no longer make sense of the old religions, he was able to. He know the code words needed to communicate with the gods, the demons and the dead. He could tap, regulate and manipulate the invisible energies. He was a problem solver who had remedies for a thousand petty troubles plaguing mankind: everything from migraine to runny nose to bedbugs to horse races, and, of course, all the troubles of love and money.

In short, it was this kind of world in which the magician served as power and communications expert, crisis manager, miracle healer and inflictor of damages, an all-purpose therapist and agent of worried, troubled, and troublesome souls." (Betz, Introduction, 1992: xlvii)
Another Definition of Sorcery
Additionally, Philostratus writes his opinion of sorcerers in his biography of Apollonius of Tyana (3rd century CE)
"The sillier sort of people ascribe this power to sorcerers… professional athletes call in their services, and so do all sorts of competitors; it contributes nothing to their victory, but the unhappy men rob themselves of the credit for their… successes and account them to these arts. Even the defeated do not lose faith in them: 'If only I had offered such and such a sacrifice, or burnt this and that incense, the victory would not have slipped through my fingers'. The sorcerer is a frequent visitor at the door of merchants… We shall find them also crediting their lucky strokes of business to (the sorcerer) and their failures to their parsimony and the neglect of the appropriate sacrifice. But lovers more than all others are attached to this art… They will listen even to old women talking of magic; so it is no wonder if they resort to these professors… The sorcerer gives them a girdle or amulet to wear – mystical stones they got from the earth or the moon or the stars and spices of aromatic Indian plants, make them pay a handsome fee… and does nothing for it.' (7.38-9)
Reference