Pseudomonarchia daemonum – Johann Wier (1583) (quoted)
Zagan is a great king and a president, he commeth abroad like a bull, with griphens wings, but when he taketh humane shape, he maketh men wittie, he turneth all mettals into the coine of that dominion, and turneth water into wine, and wine into water, he also turneth bloud into wine, & wine into bloud, & a foole into a wise man, he is head of thirtie and three legions.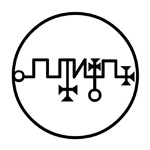 Goetia – S. L. MacGregor Mathers (1904) (quoted)
The Sixty-first Spirit is Zagan. He is a Great King and President, appearing at first in the Form of a Bull with Gryphon's Wings; but after a while he putteth on Human Shape. He maketh Men Witty. He can turn Wine into Water, and Blood into Wine, also Water into Wine. He can turn all Metals into Coin of the Dominion that Metal is of. He can even make Fools wise. He governeth 33 Legions of Spirits, and his Seal is this, etc.