Pseudomonarchia daemonum – Johann Wier (1583) (quoted)
Bifrons is seene in the similitude of a monster, when he taketh the image of a man, he maketh one woonderfull cunning in astrologie, absolutelie declaring the mansions of the planets, he dooth the like in geometrie, and other admesurements, he perfectlie understandeth the strength and vertue of hearbs, pretious stones, and woods, he changeth dead bodies from place to place, he seemeth to light candles upon the sepulchres of the dead, and hath under him six and twentie legions.
Goetia – S. L. MacGregor Mathers (1904) (quoted)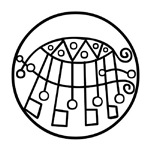 The Forty-sixth Spirit is called Bifrons, or Bifrous, or Bifrovs. He is an Earl, and appeareth in the Form of a Monster; but after a while, at the Command of the Exorcist, he putteth on the shape of a Man. His Office is to make one knowing in Astrology, Geometry, and other Arts and Sciences. He teacheth the Virtues of Precious Stones and Woods. He changeth Dead Bodies, and putteth them in another place; also he lighteth seeming Candles upon the Graves of the Dead. He hath under his Command 6 Legions of Spirits. His Seal is this, which he will own and submit unto, etc.