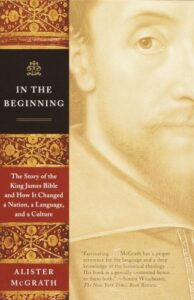 Author: McGrath, Alister E.
Publisher: Anchor
Year Published: 2002
The King James Bible is one of the most influential books in history. It has shaped the language, culture, and faith of millions of people for over four centuries. But how did this monumental translation come to be? And what challenges and controversies did it face along the way?
In his book In the Beginning: The Story of the King James Bible and How It Changed a Nation, a Language, and a Culture, Alister McGrath explores these questions and more. He offers a fascinating account of the origins, development, and impact of the King James Bible.
The Need for an English Translation
The story of the King James Bible begins with the need for an English translation of the Scriptures. McGrath traces the history of English Bible translations from John Wycliffe in the 14th century to William Tyndale in the 16th century. He shows how these translations were motivated by a desire to make the Word of God accessible to the common people, but also how they were met with opposition and persecution by the church and state authorities. He also explains how the Reformation and the rise of Protestantism created a demand for a new and authoritative English translation that would unify the diverse religious factions in England.
The Challenges of Translating the Bible
The second part of the book focuses on the challenges of translating the Bible into English. McGrath describes the process and methods of the translators who worked on the King James Bible project. He reveals how they relied on various sources, such as Hebrew, Greek, Latin, and previous English translations, to produce a faithful and elegant rendering of the original texts. He also discusses some of the difficulties and dilemmas they faced, such as how to deal with textual variants, obscure words, idioms, and stylistic choices. He illustrates how they balanced accuracy, clarity, beauty, and reverence in their translation.
The Impact of the King James Bible
The third and final part of the book examines the impact of the King James Bible on English and Christianity. McGrath demonstrates how the King James Bible influenced the language, literature, art, music, and politics of England and beyond. He shows how it became a source of inspiration, authority, identity, and controversy for generations of readers. He also evaluates its legacy and relevance in today's world, where it faces competition from newer and more modern translations.
Conclusion
In the Beginning: The Story of the King James Bible is a captivating and informative book that tells the story of one of the most important books in history. It is well-written, well-researched, and well-argued. It is suitable for anyone who is interested in learning more about the history and influence of the King James Bible.