Lecanomancy is a form of divination that involves observing the patterns and shapes formed by oil drops on water or other liquids. Oil divination was practiced by various cultures and religions in the ancient and medieval periods, but it had a special significance and development in Judaism, especially among the mystical and ascetic movements of the Ashkenazi Hasidim. In this article, we will explore the origins, methods, goals, and controversies of lecanomancy in relation to ancient Mesopotamia, Jewish tradition, and Ashkenazi Hasidism.
Lecanomancy in Ancient Mesopotamia
The earliest evidence of oil divination dates back to the third millennium BCE in Mesopotamia, the region between the Tigris and Euphrates rivers, which is considered the cradle of civilization. Mesopotamian culture was characterized by a belief in many gods and goddesses who controlled the natural and human realms. Divination was a way of communicating with these deities and seeking their guidance, protection, or favor. Divination was also a way of gaining knowledge of the past, present, and future, as well as of hidden or secret matters.
Lecanomancy was one of the many methods of divination that Mesopotamians used, along with astrology, dreams, omens, entrails, and others.1 Oil divination was performed by priests or experts who would pour oil on water or other liquids in a bowl or a basin. They would then observe the shapes and movements of the oil drops and interpret them according to established rules or intuition. The oil drops could form letters, numbers, symbols, animals, plants, or human figures. The meanings of these representations could vary depending on the context, the question, and the intention of the diviner.
The Mesopotamians used oil divination for various purposes, such as predicting the outcome of wars, battles, journeys, illnesses, marriages, births, deaths, or other important events. It was also used for diagnosing diseases, finding lost objects or persons, identifying enemies or friends, revealing secrets or lies, or obtaining divine approval or disapproval. Oil divination was considered a reliable and effective way of accessing divine wisdom and power.
Lecanomancy in Jewish Tradition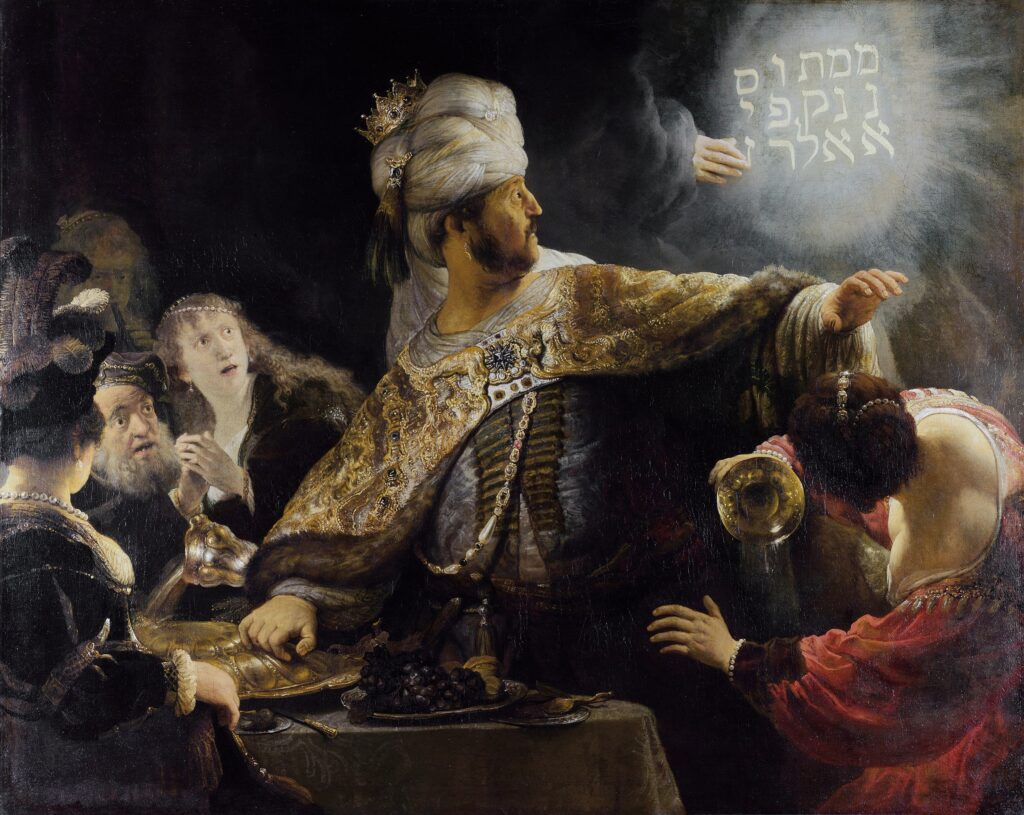 Lecanomancy was adopted by some Jewish groups and individuals who were influenced by Mesopotamian culture and religion. The earliest mention of oil divination in Jewish sources is in the Book of Daniel (5:5-9), where King Belshazzar of Babylon sees a mysterious handwriting on the wall during a feast. He calls for his wise men to interpret the writing, but none of them can. He then summons Daniel, a Jewish exile who has a reputation for being able to interpret dreams and visions. Daniel tells the king that the writing is a message from God announcing his doom for profaning the sacred vessels from the Temple in Jerusalem. Daniel says that the writing consists of four words: Mene (numbered), Tekel (weighed), Peres (divided), and Upharsin (and divided). He explains that these words mean that God has numbered Belshazzar's days, weighed his deeds, found him wanting, and divided his kingdom among his enemies.2
Some scholars have suggested that Daniel used oil divination to decipher the writing on the wall.3 They argue that Daniel poured oil on water in a bowl and observed how the oil drops formed letters or symbols that corresponded to the words on the wall. They point out that these words are Aramaic, not Hebrew, and have numerical values based on gematria (a system of assigning numerical values to letters). They also note that these words are related to weights and measures that were used in ancient Mesopotamia. For example:
Mene is derived from mana (a unit of weight)
Tekel is derived from shekel (a unit of weight and currency)
Peres is derived from parsu (a unit of length)
Upharsin is derived from peresu (a unit of area).
Thus, Daniel may have used oil divination to translate the writing on the wall into numerical values that he then interpreted according to his knowledge of Mesopotamian culture and history.
It is debatable whether Daniel actually used oil divination, but it is clear that some Jews were familiar with this practice and used it for their own purposes. One example is Josephus Flavius (37-100 CE), a Jewish historian who lived in Roman times. In his autobiography (Life 65-694), he recounts how he escaped from a siege by using oil divination. He says that he was trapped with forty companions in a cave by Roman soldiers who wanted to capture him alive. He says that he persuaded his companions to kill each other rather than surrender or commit suicide. He says that he arranged a lottery by which every tenth man would be killed by the rest. He says that he used oil and water to determine the order of the lottery. He says that he poured oil on water in a bowl and counted the oil drops until he reached the number of his companions. He says that he then marked the first drop with his finger and counted ten drops from it. He says that he repeated this process until only two men were left: himself and another man. He says that he convinced the other man to surrender with him to the Romans, who spared their lives.
Another example is Rabbi Akiva (50-135 CE), a famous Jewish sage who lived in Roman times. In the Talmud (Sanhedrin 65b)5, he is said to have performed oil divination to test the validity of a book of magic that he found. He says that he poured oil on water in a bowl and asked the oil drops whether the book was true or false. He says that the oil drops formed the word "false" in Hebrew. He says that he then burned the book and threw its ashes into the Dead Sea.
Lecanomancy was also practiced by some Jewish mystics and kabbalists who sought to reveal the secrets of God and creation. One of them was Abraham Abulafia (1240-1291), a Spanish kabbalist who developed a system of meditation based on letter combinations and permutations. In his book Sefer ha-Ot (The Book of the Sign)6, he describes how he used oil divination to communicate with God and receive divine visions. He says that one should pour oil on water in a bowl and gaze at the oil drops until they form letters or symbols. He says that one should then pronounce these letters or symbols aloud and meditate on their meanings. He says that one should repeat this process until one attains a state of ecstasy and prophecy.
Lecanomancy Among the Ashkenazi Hasidim
Lecanomancy reached its peak of popularity and sophistication among the Ashkenazi Hasidim in medieval Europe, a Jewish mystical and ascetic movement that emerged in Germany in the 12th and 13th centuries. The Ashkenazi Hasidim were influenced by kabbalah, but they also developed their own distinctive doctrines and practices. They emphasized God's presence and involvement in the world, the need to cleave to him at all times, the devotional aspect of religious observance, and the spiritual dimension of physical and mundane acts. They also produced a rich mystical literature that explored topics such as creation, angels, demons, souls, reincarnation, and eschatology.7
One of their main sources of inspiration was an ancient Jewish text called the Sefer Yetzirah (Book of Formation)8. This text describes how God created the world using letters, numbers, and elements. The Ashkenazi Hasidim used this text as a guide for meditation, contemplation, and mystical experimentation. They also developed techniques for manipulating letters and numbers based on gematria, notarikon, and Temurah, which are systems of assigning numerical values, acronyms, and permutations to letters. They used these techniques to achieve various effects, such as healing, protection, or revelation.
The Ashkenazi Hasidim considered oil divination one of the most powerful ways of attaining direct knowledge of God and his will.9 They justified oil divination by citing biblical precedents, such as Daniel's interpretation of the writing on the wall, Joseph's interpretation of Pharaoh's dreams, and Moses' use of the Urim and Thummim (a device for casting lots). They also appealed to rabbinic sources that supported oil divination, such as Josephus' escape from the siege, Rabbi Akiva's test of the magic book, and various stories and legends about sages who used oil divination for various purposes.
However, unlike other cultures that saw images or patterns in the oil, the Ashkenazi Hasidim saw letters or words that formed answers to their questions or instructions for their actions. They also believed that only children or virgins could see these letters or words clearly, while adults could not. Therefore, they employed children or virgins as intermediaries who would report what they saw in the oil to the mystics who asked them.
The historical and geographical context of the Ashkenazi Hasidim also influenced their practice of oil divination. They lived in a time and place where they were persecuted, discriminated against, and marginalized by the Christian majority and the secular authorities. They also faced internal conflicts and divisions within the Jewish community over religious and social issues. Oil divination was a way of coping with these difficulties and finding hope and meaning in their situation. It was also a way of expressing their identity and creativity as a unique and distinctive Jewish group. Oil divination was not only a mystical practice but also a cultural phenomenon that shaped and was shaped by the Ashkenazi Hasidic worldview.
Oil Divination Across Cultures and Religions
Lecanomancy reflects the human desire to know the unknown and to connect with the divine. It demonstrates how people have used their imagination and creativity to interpret the signs and symbols in the oil. It also illustrates how people have sought guidance and direction from a higher authority or intelligence that could influence their lives.
References: