Moses & Egyptian Magic
Because Moses had spent so much time in Egypt, there were traditions that Moses had practiced magic.
"Moses was educated in all the learning of the Egyptians, and he was a man of power in words and deeds.' – Acts 7:22 (NASB)
This passage probably reflects (among other things) that the early Christians viewed Moses as a great magician having been educated in Egyptian magic. One amulet found in Acrae on Sicily describes how Moses became phykikos (a 'magician') after climbing the Sacred Mountain. (IG XIV 2413, 1 Graf, 1994a: 15-16)
Moses' Sect of Magic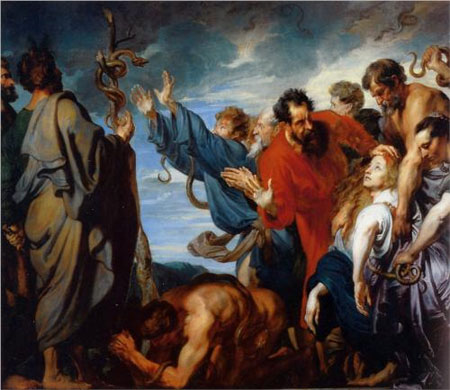 Additionally, Pliny describes Moses as having founded 'a sect of magic' magices factio that 'Iannes' and 'Iotapes' were also members. (Natural History 30.11)
Moses' Magical Feats in Exodus
This likely is inferred from the passage in Exodus where Moses confronts the Pharaoh and performs several magical feats to compete with the magicians of Egypt and convince Pharaoh to free the Israelites. Here, Moses' magic is greater and defeats the Egyptian magic, but it is considered 'good' because Moses performs his magic to serve God.
"When Pharaoh speaks to you, saying, 'Work a miracle,' then you shall say to Aaron, 'Take your staff and throw it down before Pharaoh, that it may become a serpent.' So Moses and Aaron came to Pharaoh, and thus they did just as the LORD had commanded and Aaron threw his staff down before Pharaoh and his servants, and it became a serpent. Then Pharaoh also called for the wise men and the sorcerers, and they also, the magicians of Egypt, did the same with their secret arts. For each one threw down his staff and they turned into serpents. But Aaron's staff swallowed up their staffs.' – Exodus 7: 9-12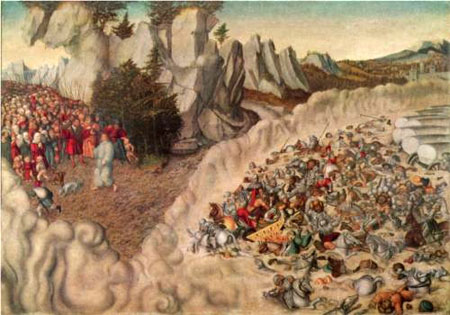 "Go to Pharaoh in the morning as he is going out to the water, and station yourself to meet him on the bank of the Nile and you shall take in your hand (20) the staff that was turned into a serpent. "You shall say to him, 'The LORD, the God of the Hebrews, sent me to you, saying, " Let My people go, that they may serve Me in the wilderness. But behold, you have not listened until now." Thus says the LORD, "By this you shall know that I am the LORD: behold, I will strike the water that is in the Nile with the staff that is in my hand, and it will be turned to blood. The fish that are in the Nile will die, and the Nile will become foul, and the Egyptians will find difficulty in drinking water from the Nile." Then the LORD said to Moses, "Say to Aaron, 'Take your staff and stretch out your hand over the waters of Egypt, over their rivers, over their streams, and over their pools, and over all their reservoirs of water, that they may become blood and there will be blood throughout all the land of Egypt, both in vessels of wood and in vessels of stone." So Moses and Aaron did even as the LORD had commanded. And he lifted up the staff and struck the water that was in the Nile, in the sight of Pharaoh and in the sight of his servants, and all the water that was in the Nile was turned to blood. The fish that were in the Nile died, and the Nile became foul, so that the Egyptians could not drink water from the Nile. And the blood was through all the land of Egypt. But the magicians of Egypt did the same with their secret arts and Pharaoh's heart was hardened, and he did not listen to them, as the LORD had said.' – Exodus 7: 15-22
Josephus argues that Moses' acts are superior to the magical arts because they are divine in nature. (Antiquitates Judaicae 2.284)
Reference