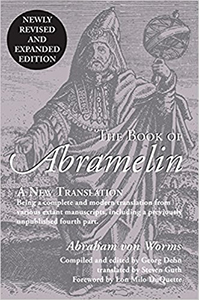 The Sacred Magic of Abramelin the Mage is said to have been an English translation of a 15th century Hebrew work written by Abramelin the Jew to his second son, Lamech. It is considered a classic text in modern occult circles, and Aleister Crowley held it in high esteem. In it, a famous German Jew named Abraham the Jew (1362-1460) describes the six-month (or longer!) operation taught by Abramelin the Mage "to seek the Knowledge and Conversation of the Holy Guardian Angel" (HGA) and thus further his magickal studies. This tedious ritual requires daily dedication and focus with the intent of awakening your HGA from deep within you.
According to Kabbalah scholar, Gershom Scholem, the manuscript was originally written in German, and the Hebrew manuscript found in Oxford is a bad translation. He claims that while the author had an uncommon command of Hebrew at the time, he was not Jewish. He says of the text "It shows the partial influence of Jewish ideas but does not have any strict parallel in kabbalistic literature." (Scholem, Kabbalah)
This section is composed of the names and descriptions of demons found in Chapter 19 of Book 2 of S.L. MacGregor Mathers' translation of the Book of the Sacred Magic of Abramelin the Mage.
Modern Magick Demonology Sources »
[ Johann Wier | Collin de Plancy | Abramelin the Mage | The Goetia ]