Pseudomonarchia daemonum – Johann Wier (1583) (quoted)
Marbas – alias Barbas is a great president, and appeareth in the forme of a mightie lion; but at the commandement of a conjuror commeth up in the likenes of a man, and answereth fullie as touching anie thing which is hidden or secret: he bringeth diseases, and cureth them, he promoteth wisedome, and the knowledge of mechanicall arts, or handicrafts; he changeth men into other shapes, and under his presidencie or gouvernement are thirtie six legions of divels conteined.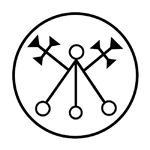 Goetia – S. L. MacGregor Mathers (1904) (quoted)
The fifth Spirit is Marbas. He is a Great President, and appeareth at first in the form of a Great Lion, but afterwards, at the request of the Master, he putteth on Human Shape. He answereth truly of things Hidden or Secret. He causeth Diseases and cureth them. Again, he giveth great Wisdom and Knowledge in Mechanical Arts; and can change men into other shapes. He governeth 36 Legions of Spirits. And his Seal is this, which is to be worn as aforesaid.