Belial in the Dead Sea Scrolls
Belial (or Beliaal) is Hebrew for "without value." He is known as Beliar in Greek. Among certain sections of the Jews, this demon was considered the chief of all the devils. In The War of the Sons of Light and the Sons of Darkness (1QM), one of the Dead Sea Scrolls, Belial is the leader of the Sons of Darkness:
'But for corruption thou hast made Belial, an angel of hostility. All his dominions are in darkness, and his purpose is to bring about wickedness and guilt. All the spirits that are associated with him are but angels of destruction.'
Belial is also mentioned in the Fragments of a Zadokite Work (which is also known as The Damascus Document (CD)), which states that at the time of the Antichrist, "Belial shall be let loose against Israel, as God spake through Isaiah the prophet." (6:9). The Fragments also speak of "three nets of Belial" which are said to be fornication, wealth, and pollution of the sanctuary. (6:10-11) In this work, Belial is sometimes presented as an agent of divine punishment and sometimes as a rebel, as Mastema is. It was Belial who inspired the Egyptian sorcerers, Jochaneh and his brother, to oppose Moses and Aaron. The Fragments also say that anyone who is ruled by the spirits of Belial and speaks of rebellion should be condemned as a necromancer and wizard.
Belial in Testament of the Twelve Patriarchs
Belial is also mentioned in the Testament of the Twelve Patriarchs. The author of the work seems to be a dualist because he presents Belial as God's opponent, not as a servant, but does not mention how or why this came to be. Simeon 5:3 says that fornication separates man from God and brings him near to Beliar. Levi tells his children to choose between the Law of God and the works of Beliar (Levi 19:1) It also states that when the soul is constantly disturbed, the Lord departs from it and Beliar rules over it. Naphtali (2:6, 3:1) contrasts the Law and will of God with the purposes of Beliar. Also, in 20:2, Joseph prophesies that when Israel leaves Egypt, they will be with God in light while Beliar will remain in darkness with the Egyptians. Finally, the Testament describes that when the Messiah comes, the angels will punish the spirits of deceit and Beliar (3:3) and that the Messiah will bind Beliar and give to his children the power to trample the evil spirits (18:12).
Belial in the Martyrdom of Isaiah
In The Martyrdom of Isaiah, Belial is the angel of lawlessness and is the ruler of this world.
"And Manasseh turned aside his heart to serve Beliar; for the angel of lawlessness, who is the ruler of this world, is Beliar, whose name is Matanbuchus." – Martyrdom of Isaiah 2:4
Belial in Paradise Lost
In Milton's Paradise Lost
Belial came last; than whom a Spirit more lewd
Fell not from Heaven, or more gross to love,
Vice for itself. To him no temple stood
Or altar smoked; yet who more oft than he
In temples and at altars, when the priest
Turns atheist, as did Eli's sons, who filled
With lust and violence the house of God?
In courts and palaces he also reigns,
And in luxurious cities, where the noise
Of riot ascends above their loftiest towers,
And injury and outrage; and, when night
Darkens the streets, then wander forth the sons
Of Belial, flown with insolence and wine.
Witness the streets of Sodom, and that night
In Gibeah, when the hospitable door
Exposed a matron, to avoid worse rape.
-Paradise Lost, i. 490-504
Some saie that the king Beliall was created immediatlie after Lucifer, and therefore they thinke that he was father and seducer of them which fell being of the orders. For he fell first among the worthier and wiser sort, which went before Michael and other heavenlie angels, which were lacking. Although Beliall went before all them that were throwne downe to the earth, yet he went not before them that tarried in heaven. This Beliall is constrained by divine venue, when he taketh sacrifices, gifts, and offerings, that he againe may give unto the offerers true answers. But he tarrieth not one houre in the truth, except he be constrained by the divine power, as is said. He taketh the forme of a beautifull angell, sitting in a firie chariot; he speaketh faire, he distributeth preferments of senatorship, and the favour of friends, and excellent familiars: he hath rule over eightie legions, partlie of the order of vertues, partlie of angels; he is found in the forme of an exorcist in the bonds of spirits. The exorcist must consider, that this Beliall doth in everie thing assist his subjects. If he will not submit himselfe, let the bond of spirits be read: the spirits chaine is sent for him, wherewith wise Salomon gathered them togither with their legions in a brasen vessell, where were inclosed among all the legions seventie two kings, of whome the cheefe was Bileth, the second was Beliall, the third Asmoday, and above a thousand thousand legions. Without doubt (I must confesse) I learned this of my maister Salomon; but he told me not why he gathered them together, and shut them up so: but I beleeve it was for the pride of this Beliall. Certeine nigromancers doo saie, that Salomon, being on a certeine daie seduced by the craft of a certeine woman, inclined himselfe to praie before the same idoll, Beliall by name: which is not credible. And therefore we must rather thinke (as it is said) that they were gathered together in that great brasen vessell for pride and arrogancie, and throwne into a deepe lake or hole in Babylon. For wise Salomon did accomplish his workes by the divine power, which never forsooke him. And therefore we must thinke he worshipped not the image Beliall; for then he could not have constrained the spirits by divine vertue: for this Beliall, with three kings were in the lake. But the Babylonians woondering at the matter, supposed that they should find therein a great quantitie of treasure, and therefore with one consent went downe into the lake, and uncovered and brake the vessell, out of the which immediatlie flew the capteine divels, and were delivered to their former and proper places. But this Beliall entred into a certeine image, and there gave answer to them that offered and sacrificed unto him: as Tocz. in his sentences reporteth, and the Babylonians did worship and sacrifice thereunto.
Goetia – S. L. MacGregor Mathers (1904) (quoted)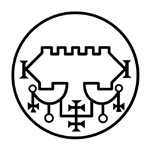 The Sixty-eighth Spirit is Belial. He is a Mighty and a Powerful King, and was created next after LUCIFER. He appeareth in the Form of Two Beautiful Angels sitting in a Chariot of Fire. He speaketh with a Comely Voice, and declareth that he fell first from among the worthier sort, that were before Michael, and other Heavenly Angels. His Office is to distribute Presentations and Senatorships, etc.; and to cause favour of Friends and of Foes. He giveth excellent Familiars, and governeth 50 Legions of Spirits. Note well that this King Belial must have Offerings, Sacrifices and Gifts presented unto him by the Exorcist, or else he will not give True Answers unto his Demands. But then he tarrieth not one hour in the Truth, unless he be constrained by Divine Power. And his Seal is this, which is to be worn as aforesaid, etc.
Belial: From Hebrew, BLIOL, = a Wicked One
Reference