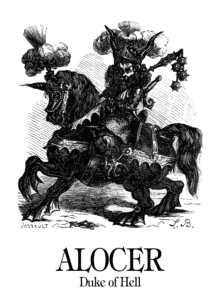 Weir (1583) describes Allocer as a duke who appears as a soldier who rides a horse. He has the face of a lion, with a red complexion, flaming eyes, and a large voice. He teaches astronomy and liberal science (similar to Amy), brings good familiars, and rules over thirty-six legions.
Allocer is a strong duke and a great, he commeth foorth like a soldier, riding on a great horsse, he hath a lions face, verie red, and with flaming eies, he speaketh with a big voice, he maketh a man woonderfull in astronomie, and in all the liberall sciences, he bringeth good familiars, and ruleth thirtie six legions. [ref]Weyer, Johann. "Allocer." Pseudomonarchia Daemonum. 1583. Esoteric Archives. Web. [/ref]
According to Collin de Plancy (1863), Alocer is a Grand Duke of hell and powerful demon who commands thirty-six legions. He appears as a knight and rides a horse. His face has the features of a lion, with an inflamed complexion and fiery eyes. He speaks with gravity. He is said to teach astronomy and liberal arts. [ref]Collin De Plancy, Jacques Auguste Simon. "Alocer." Dictionaire Infernal. Paris: Henri Plon, Imprimeur-Editeur, 1863. 22. Internet Archive. Web.[/ref]
Alloces in the Goetia
S. L. MacGregor Mathers' description of Alloces is virtually identical to both Weir and dePlancy's. Like with Weir, Mathers adds that Alloces brings good familiars.
The Fifty-second Spirit is Alloces, or Alocas. He is a Duke, Great, Mighty, and Strong, appearing in the Form of a Soldier riding upon a Great Horse. His Face is like that of a Lion, very Red, and having Flaming Eyes. His Speech is hoarse and very big. His Office is to teach the Art of Astronomy, and all the Liberal Sciences. He bringeth unto thee Good Familiars; also he ruleth over 36 Legions of Spirits. His Seal is this, which, etc.[ref]Mathers, S. L. MacGregor, Aleister Crowley, and Hymenaeus Beta. The Goetia: the lesser key of Solomon the King: Lemegeton, Book I–Clavicula Salomonis Regis. York Beach, Me.: Samuel Weiser, 1997. Print.[/ref]