In 1853, in the heart of ancient Nineveh, now known as Mosul in Iraq, a remarkable discovery lay in wait. English archaeologist Sir Austen Henry Layard, with the assistance of his Iraqi counterpart Hormuzd Rassam, uncovered an ancient library of the Assyrian king, Ashurbanipal. Among the myriad tablets inscribed with cuneiform, one narrative stood out: the Epic of Gilgamesh. But what makes a 4,000-year-old text from a Mesopotamian king's collection significant to the modern world?
Epic of Gilgamesh: Myth and History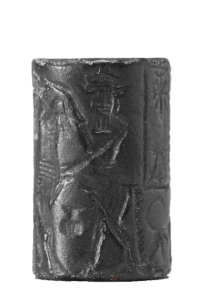 First translated by George Smith from the British Museum in 1872, The Epic of Gilgamesh recounts the exploits of its titular king and his search for immortality. Emerging from ancient Mesopotamia, situated between the Tigris and Euphrates rivers, this poem delves deeper than heroic adventures and divine rendezvous—it deeply probes the human psyche, exploring friendship, grief, and the unrelenting passage of time.
This venerable text depicts Gilgamesh's metamorphosis from a tyrannical leader to a wise king. Gilgamesh and Enkidu become friends after a fierce initial combat. Their bond grows as they embark on adventures, including the slaying of the Bull of Heaven, which was sent by the goddess Ishtar as punishment for Gilgamesh's arrogance.
However, after Enkidu dies by divine decree, Gilgamesh embarks on a profound quest for understanding and immortality.
Gilgamesh: From Legend to Historic Figure
Initially, Gilgamesh was thought to be a literary protagonist in an epic tale. Subsequent archaeological endeavors unearthed evidence of ancient city-states, like Uruk, where Gilgamesh was reputedly king. A list of Sumerian kings chronicling the rulers of ancient Mesopotamia references a historical figure named "Gilgamesh, whose father was a phantom, the lord of Kulaba" reigning for 126 years.
Further walls excavated at Uruk may correlate with the legendary walls described in the Epic as having been built by Gilgamesh to protect his city. Thus, the layers of sediment weren't the only layers being unearthed—each discovery was peeling back layers of myth, revealing historical truths underneath.
The Power of Textual Archaeology
The Epic of Gilgamesh isn't a singular tale but a compilation of various narratives. Distinct versions, mirroring the cultural and theological sentiments of different periods, have been unearthed across Mesopotamia. Through these variants, scholars unearthed the shifting spiritual terrain of ancient Mesopotamia.
One part of the Epic serves as a prime illustration. The Great Flood narrative, where deity Enlil intends to obliterate mankind but is foiled by the clever Utnapishtim, closely parallels the biblical story of Noah's Ark. Both tales, bound by divine judgment, deliverance, and rebirth, point to intertwined cultural memories or influences, emphasizing the fluidity and adaptability of myths across cultures and ages.
Moreover, the Cedar Forest journey, embarked upon by Gilgamesh and Enkidu, could represent man's respect for and confrontation with nature, symbolized by their face-off with Humbaba, the guardian designated by Enlil.
Reverberations Through Time: The Epic of Gilgamesh's Impact on the Modern World
The rediscovery of the Epic of Gilgamesh wasn't just a monumental event for the archaeological community—it sent ripples through various disciplines. Literature, religious studies, history, and anthropology departments the world over began integrating the Epic into their curricula, and modern authors and filmmakers found inspiration in its themes and characters. The Epic's striking parallels with the biblical narrative sparked heated debates around ancient influences on religious texts.
Yet, at its core, the epic resonates with universal human experiences. As Gilgamesh found peace in Uruk's eternal legacy, his tale reiterates the timeless human quest for understanding, legacy, and connection.