What happened to Jesus after his resurrection? How did he leave the earth and enter the heavenly realm? And what does his ascension mean for his followers and the world? These are some of the questions that have intrigued Christians and non-Christians alike for centuries.
The ascension of Jesus is one of the most mysterious and significant events in the history of Christianity, as well as a common theme in art, literature, and theology. In this article, we will explore the biblical accounts, the ancient texts, and the artistic representations of the ascension, and examine how they reflect the diverse beliefs and perspectives of different religious traditions and cultures.
The Ascension of Jesus in Biblical Narrative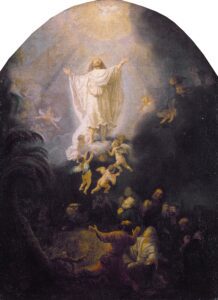 The ascension of Jesus is mentioned briefly in three of the four canonical Gospels: Mark, Luke, and John. However, only Luke and Acts, which are attributed to the same author, provide direct and detailed descriptions of the event.
According to Luke 24:50-53, Jesus led his disciples to Bethany, a village on the Mount of Olives, and blessed them before he was lifted up into heaven. The disciples then worshiped him and returned to Jerusalem with great joy, where they stayed at the temple and praised God.
And He led them out as far as Bethany, and He lifted up His hands and blessed them. While He was blessing them, He parted from them and was carried up into heaven. And they, after worshiping Him, returned to Jerusalem with great joy, and were continually in the temple praising God.

– Luke 24.50–53 (NASB)1
In Acts 1:1-11, Jesus appeared to his disciples for forty days after his resurrection, teaching them about the kingdom of God.
To these He also presented Himself alive after His suffering, by many convincing proofs, appearing to them over a period of forty days and speaking of things regarding the kingdom of God.

– Acts 1:3 (NASB)
He then instructed them to wait in Jerusalem for the gift of the Holy Spirit and promised that they would be his witnesses to the ends of the earth.
Gathering them together, He commanded them not to leave Jerusalem, but to wait for what the Father had promised, "Which," He said, "you heard of from Me; 5 for John baptized with water, but you will be baptized with the Holy Spirit [h]not many days from now."

– Acts 1:4-5 (NASB)
As he was speaking, he was taken up into a cloud, while two angels appeared and told the disciples that he would come back in the same way they had seen him go.
And after He had said these things, He was lifted up while they were watching, and a cloud took Him up, out of their sight.

– Acts 1:9 (NASB)
Analyzing Luke/Acts
The chronology and location of the ascension in Luke and Acts have been debated by scholars and commentators for a long time. Some argue that Luke intended to present two different accounts of the same event, while others suggest that he deliberately changed the details to suit his literary and theological purposes.
Some also point out that there are discrepancies between Luke's accounts and those of other New Testament writers, such as Paul, who implied that Jesus ascended to heaven shortly after his resurrection (1 Corinthians 15:3-8; Ephesians 4:8-10).
Moreover, some scholars question the historical reliability of Luke's accounts, noting that they are influenced by Jewish and Greco-Roman traditions of heavenly ascents by prophets and heroes.
The Ascension of Jesus in Ancient Texts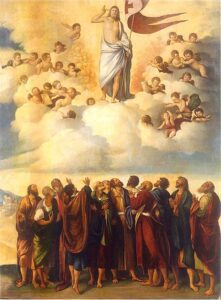 The biblical accounts of the ascension are not the only sources that mention or allude to this event. There are also several ancient texts that either expand on or challenge the canonical narratives. Some of these texts are considered apocryphal or pseudonymous by most Christian churches, but they nevertheless offer valuable insights into how different communities and authors understood and interpreted the ascension.
The Ascension of Isaiah
One of these texts is the Ascension of Isaiah, a composite work that combines Jewish and Christian elements from different periods and genres. It consists of two main parts: a martyrdom account of the prophet Isaiah, who was sawn in half by King Manasseh; and a visionary account of Isaiah's ascent through the seven heavens, where he witnessed various angelic beings and heavenly realities.
And I saw when He sent out the Twelve Apostles and ascended. And I saw Him, and He was in the firmament, but He had not changed Himself into their form, and all the angels of the firmament and the Satans saw Him and they worshipped. And there was much shouting in the firmament: 'The beloved from the descent has ascended thither whence he had descended.'

– Ascension of Isaiah 9:27-282
In the seventh heaven, he saw the pre-existent Christ descending from his throne to take on human flesh through Mary, and then ascending back to his throne after his death and resurrection. The Ascension of Isaiah emphasizes the contrast between Christ's glory in heaven and his humiliation on earth, as well as his victory over Satan and his powers.
The Apocalypse of Peter
Another text is the Apocalypse of Peter, a Christian apocalyptic work that claims to record a revelation given by Jesus to Peter before his ascension.
And he showed me a great mountain which was outside this world, and all the world was full of light, and the air was lighted with the rays of the sun, and the earth itself was enlightened. And we went up on that mountain, I and he, and there was at the top of that mountain another ascent above the mountain, marvelous great, so that it was possible to go up there from this world; and because of its great height it seemed to touch heaven. And I said to him: 'Lord, how much space is there between this place and heaven?' And he said to me: 'Between them there is a great distance, so that a man cannot see it; for heaven is higher than it by fifteen times as much as water is higher than fire; and yet you see how great is the distance between fire and water.'

– Apocalypse of Peter 14-153
The describes various scenes of judgment and reward for the righteous and the wicked, as well as a tour of heaven and hell guided by an angel. It also contains a controversial passage that seems to suggest that Jesus did not suffer on the cross, but switched places with someone else (possibly Simon of Cyrene), while he laughed from above at those who crucified him.
And I saw someone about to approach us resembling him, even him who was laughing on the tree. And he was filled with a Holy Spirit, and he is the Savior. And there was a great, ineffable light around them, and the multitude of ineffable and invisible angels blessing them. And when I looked at him, the one who gives praise was revealed. And he said to me, \"Be strong, for you are the one to whom these mysteries have been given, to know them through revelation, that he whom they crucified is the first-born, and the home of demons, and the stony vessel in which they dwell, of Elohim, of the cross, which is under the Law. But he who stands near him is the living Savior, the first in him, whom they seized and released, who stands joyfully looking at those who did him violence, while they are divided among themselves. Therefore he laughs at their lack of perception, knowing that they are born blind. So then the one susceptible to suffering shall come, since the body is the substitute. But what they released was my incorporeal body. But I am the intellectual Spirit filled with radiant light. He whom you saw coming to me is our intellectual Pleroma , which unites the perfect light with my Holy Spirit."

– Apocalypse of Peter 81:4-82:6
This passage implies that Jesus had two bodies: one that was crucified and another that was glorified. The crucified body was a substitute or a vessel for the demons, while the glorified body was filled with the Holy Spirit and the perfect light. The passage also suggests that Jesus did not feel any pain or sorrow on the cross, but rather laughed at his enemies' ignorance and blindness.
This view is considered docetic, meaning that it denies the real humanity and suffering of Jesus. Docetism was rejected by many early Christians as a heresy that undermined the incarnation and atonement of Christ.
The Acts of John
A third text is the Acts of John, a Christian novel that narrates the adventures and miracles of John the Apostle after Jesus' ascension. It includes a famous episode where John performs a circular dance with Jesus and other disciples on Mount Zion while singing a hymn that celebrates Christ's cosmic role as the Word of God.
He bade us therefore make as it were a ring, holding one another's hands, and himself standing in the midst he said: Answer Amen unto me. He began, then, to sing an hymn and to say: Glory be to thee, Father. And we, going about in a ring, answered him: Amen. Glory be to thee, Word: Glory be to thee, Grace. Amen. Glory be to thee, Spirit: Glory be to thee, Holy One: Glory be to thy glory. Amen. We praise thee, O Father; we give thanks to thee, O Light, wherein darkness dwelleth not. Amen. Now whereas (or wherefore) we give thanks, I say: I would be saved, and I would save. Amen. I would be loosed, and I would loose. Amen. I would be wounded, and I would wound. Amen. I would be born, and I would bear. Amen. I would eat, and I would be eaten. Amen. I would hear, and I would be heard. Amen. I would be thought, being wholly thought. Amen. I would be washed, and I would wash. Amen. Grace danceth. I would pipe; dance ye all. Amen. I would mourn: lament ye all. Amen. The number Eight (lit. one ogdoad) singeth praise with us. Amen. The number Twelve danceth on high. Amen. The Whole on high hath part in our dancing. Amen. Whoso danceth not, knoweth not what cometh to pass. Amen.

– Acts of John : 94-96
This passage is considered controversial by some scholars because it implies that Jesus did not suffer on the cross, but rather laughed at his enemies' ignorance and blindness The passage also reflects a Gnostic view of Jesus as the Word of God who reveals the hidden mysteries of the Father. The circular dance is seen as a symbol of the cosmic harmony and unity that Jesus brings to his followers.4
The Ascension of Jesus in Art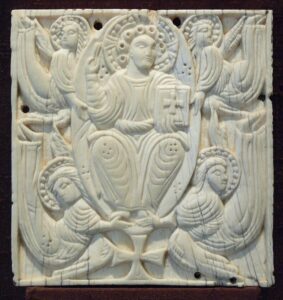 The ascension of Jesus has been a popular subject in Christian art since the early centuries of Christianity. The earliest depictions show Jesus climbing up a mountain or being lifted up by angels or by God's hand into a cloud or a mandorla (an almond-shaped halo). Sometimes, only his feet are visible as he disappears from the earthly scene. In most cases, he is surrounded by his disciples, who look up in awe or worship. Often, the Virgin Mary is at the center of the group, representing the Church. In some cases, two angels are also present, echoing the words of Acts 1:11.
The ascension scenes vary in style and symbolism according to the cultural and historical contexts in which they were produced. For example, in Byzantine and Eastern Orthodox art, the ascension is usually depicted as a symmetrical and harmonious composition, with Christ in a mandorla blessing his followers with his right hand. In Romanesque and Gothic art, the ascension is often portrayed as a dynamic and dramatic event, with Christ ascending in a spiral motion or with angels pulling him up. In Renaissance and Baroque art, the ascension is sometimes depicted as a realistic and emotional scene, with Christ rising above a landscape or a cityscape, and with his disciples expressing various reactions.
The ascension scenes also convey different theological and spiritual messages depending on the artistic choices and intentions of the artists. Some emphasize the humanity and divinity of Christ, others his authority and power, and others his love and grace. Some highlight the role of the disciples as witnesses and missionaries, others their joy and hope, and others their sorrow and confusion. Some focus on the separation and distance between Christ and his followers, others on the continuity and connection between them.
The Ascension of Jesus: Meaning & Significance
The ascension of Jesus is a phenomenon that has attracted the attention and interest of various scholars and researchers from different fields and disciplines. It is a historical event that is reported by some ancient sources, but also a literary motif that is developed by other ancient texts. It is an artistic theme that is represented by various forms and styles, but also a religious doctrine that is interpreted by different traditions and cultures.
Rather than being a matter of faith or belief alone, the ascension of Jesus also involves history and evidence. It raises not only the question of what happened to Jesus after his resurrection but also the question of how his departure and return were understood and expressed by his followers and others. It touches not only on theology or spirituality but also on sociology and anthropology.
Therefore, the ascension deserves to be examined and evaluated from multiple perspectives and methods, such as historical criticism, literary analysis, art history, comparative religion, and more. By doing so, we can gain a more objective and balanced understanding of this event and its impact and influence on the development of Christianity and other religions. We can also appreciate the diversity and complexity of the human responses to this event and its implications for the world.
References: