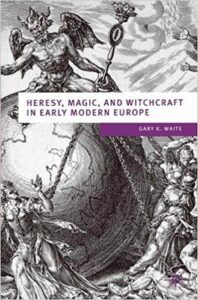 Rating:


Author: Waite, Gary K.
Publisher: Palgrave Macmillan
Year Published: 2003
With this book, Professor Gary Waite has written one of the clearest overviews of witchcraft and heresy in Europe during the 15th through 17th centuries.
The book is broken into six main chapters ranging from concepts of the devil, magic and heresy in the Later Middle Ages to how the Reformation transformed Europe and challenged orthodox beliefs to how these new conflicts arising among Catholics and Protestants promoted intolerant views of the other, which ultimately led to the witchcraze.
Waite begins with an overview of religious beliefs during the late Middle Ages. The Medieval cosmos was comprised of the sun, moon, and planets that circled the earth, while the stars were fixed. The primary elements at the time were earth, air, water, fire, and ether – the substance through which heavenly bodies traveled. These elements gave all things the moral properties of being hot, cold, moist, and dry – ranked in order of their virtue with hot being superior to cold. There was a hierarchical nature to how the universe was ordered with God and his spirits sitting at the top while base matter was at the bottom. Humans, who were both spiritual and material because they had both a soul and a body, sat somewhere in between.
By the 15th century, there was a growing interest among the learned in alchemy and secret lore such as the Corpus Hermetica (discovered to be a forgery in 1614), the Christian adaptation of the Jewish Cabala, and texts explaining how to use prayers and rituals to summon and command spirits. Popular magic focused primarily on the moon and looked for more common results such as preserving fertility, restoring health, and manipulating human interactions and affairs.
Waite does a great job of explaining the social dynamic leading up to the Reformation. Early on, he describes the growing skepticism surrounding the Church's sacrament of transubstantiation – where Christ is present in the Eucharist – and how the Church countered such criticisms by emphasizing how the host performed miracles. At the same time, it pronounced anyone – such as the Cathars and Waldensians – who interpreted scriptures differently from the Church as heretical. To clarify Church beliefs, Pope Innocent III called the fourth Lateran Council in 1215 to clarify orthodox beliefs and impose stricter rules on parishioners.
There was also a movement to demonize Jews, who (it was believed) were responsible for Christ's death. Similar to the writings on witchcraft several centuries later, Jews were depicted as wicked people working with the devil to lead Christians astray. In fact, the Jews were so hated they were thrown out of Spain in 1492.
Even as stories began to circulate about witches that flew off into the night to participate in pagan or demonic rituals, most medieval churchmen remained skeptical and wrote them off as demonic deceptions – that is, the demons just made these witches think these events were happening. That changed when Pope John XXII – who was convinced someone was magically trying to poison him – created a list of forbidden magical acts in 1326 that Inquisitors could now investigate. These heretical acts included things like making a pact with the Devil, attempting to summon demons, or abusing the sacraments of baptism or the Eucharist. The pope himself even proclaimed that
Grievingly we observe… that many who are Christians in name only… sacrifice to demons, adore them, make or have made images, rings, mirrors… for magic purposes, and bind themselves to demons. They ask and receive responses from them and to fulfill their most depraved lusts ask them for aid… and make a pact with hell.
Still, prior to 1420, there were less than 100 references to trials involving sorcery, and most regarded individuals accused of performing maleficia against those of power. This escalated to between 300-400 trials taking place between 1428 and 1500, and Waite provides details for a handful of interesting trials.
On October 31, 1517, Martin Luther began circulating a set of 95 theses on the subject of indulgences in hopes of creating scholarly debate. This led to much controversy and soon he was engaged in ferocious debate with the papacy
[Luther] called for the dismantling of the sacramental system. Leaving only two sacraments, baptism and the Lord's Supper, the latter to be celebrated in the vernacular and to include communion with both the bread and wine for lay people. While he maintained that Eucharistic bread and wine became the body and blood of Christ, he rejected any clerical role in this transformation, relying instead on the verbal commitment of Christ at the Last Supper.

Luther furthermore promoted the reading of the scriptures by all believers, translating the Bible from its original Hebrew and Greek into a very powerful German. In every writing and sermon he asserted that salvation was a gift from God received solely by faith and based entirely on divine mercy, without performances of any good works. His famous catchphrases, priesthood of all believers, and freedom of a Christian, not to mention his portrayal of the papacy as the Antichrist, made him tremendously popular.
Soon, this movement grew beyond Luther. Feeding off anti-Church sentiment, in 1525, the peasants of Memmingen revolted and massacred a group of two dozen noblemen at Weinsberg (known as the Weinsberg massacre). Not only did this not sit well with Luther, but the Duke soon crushed the rebellion. Now seeing Luther as a traitor, the peasants created their own movement called Anabaptism with a similar ideology to that of the Peasant War.
All sides soon campaigned to define what they considered orthodox and paint the other side as the devil's followers. Out of such an environment, the witchcraze flourished, and Waite provides incredible detail of the witch trials of specific geographical areas, making up the bulk of the second half of this book.
At 284 pages (or 234 without end notes and index), Waite packs an amazing amount of detail into this book. His writing style is clear and he presents the material in a logical manner, carefully explaining how the political and social structure provided a fertile breeding ground for the intolerance of the witch trials across Europe.
I highly recommend this book to anyone who wants a thorough historical account of how the Protestant Reformation influenced witch trials of Europe.